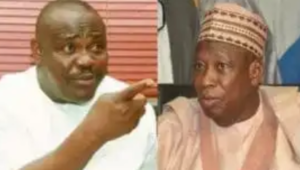 As the Edo State governorship election draws nearer, political actors and party faithfuls have started mudslinging and names calling to de-market themselves.
Two of the political heavy weights that recently threw jibes at each other are the governors of Kano State and his Rivers State counterpart.
Kano State Governor, Dr. Abdullahi Ganduje, the arrow head during of All People's Congress (APC) campaign in the forthcoming Edo State election, in a media briefing in Abuja, on Monday said, "We know the PDP made Wike their (campaign council) chairman. I assure you; we will isolate Wike in an isolation centre and before he recovers, the election is over."
In response to the salvo launched at him, the People's Democratic Party(PDP) chairman of the Edo State Governorship Election, Governor Nyesom Wike of Rivers State replied his Kano State counterpart, Abdullahi Ganduje, that he is the one who deserves to be isolated, not him.
During the inauguration of the PDP campaign council in Abuja on Tuesday, Wike said "Nobody can intimidate us in this election. Yesterday, I was told and today I read on the pages of newspapers that one Governor Ganduje said that he is going to isolate me until the election is over. If Nigeria is supposed to be a country, who is supposed to be isolated?
"A man who pockets dollars in babanriga (flowing gown) from contractors is not isolated and you say that me should be isolated. In this country, where are we heading to?
"Let me tell you why they (APC) made Ganduje the chairman of the campaign council; it is because of the dollars they saw. But for dollars, Ganduje could not have been made the chairman of the campaign council.
"But what he doesn't understand is that we are from the Niger Delta; we shall chop his dollar and we will chophim to a coma. So, Ganduje, your dollar will not work in Edo State, we have integrity in our party."
Recall that before the 2019 re-election of Governor Ganduje, a video was released showing the governor stuffing dollars into his babariga, monies allegedly collected by Ganduje as bribe from a contractor.
The dollar controversy which seems to have died down, has become a campaign tool against the politicians who are bent on bringing each other down, in a bid to win the Edo governorship seat for their party.