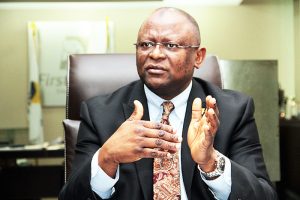 Mr. Adesola Adeduntan, the Chief Executive Officer, First Bank of Nigeria Limited, has said that since the introduction of the Importers' and Exporters' (I and E) foreign exchange (FX) window, the economy has witnessed remarkable improvement in FX inflows and an upsurge in capital importation.
This, he said has also strengthened the Central Bank of Nigeria (CBN) capacity to maintain naira exchange stability.
Adeduntan, who disclosed this in Lagos at the Financial Times Nigeria Summit tagged: "Dispelling Uncertainty and Building Resilience," stated that in the last one year, I&E FX window has played an instrumental role in stabilising the naira.
He also stated that prior to the introduction of the I and E FX window, there were concerns around multiple exchange rates, huge gap between the official exchange rate and the parallel market rates and the opaqueness in the FX management system.
Adeduntan who was represented at the event by the bank's Group Executive Treasury and Financial Institutions, Ini Ebong,  noted that the introduction of the I and E FX window in April 2017, was one of the most important FX policies implemented by the CBN in the past two years.
The CEO, who spoke on a wide of themes at the summit, explained that domestic savings was necessary for economic growth because it provides the domestic resources needed to fund the investment effort of a country.
He further pointed out that banks play a critical role in an effort to raise domestic savings, adding that in many developing countries such as Nigeria, "significant amount of capital is held in the informal economy than in the formal economy. A large part of this capital is held in small amounts by those within the bottom of the pyramid in the economy."
Adeduntan added: "The Nigerian banking industry players are already implementing several initiatives to attract numerous small capital holdings into the formal sector by providing households with savings services that meet their needs and made readily accessible to them.
"Specifically, the banking industry in collaboration with government agencies and stakeholders are aggressively driving the implementation of the Financial Inclusion Strategy (FIS).