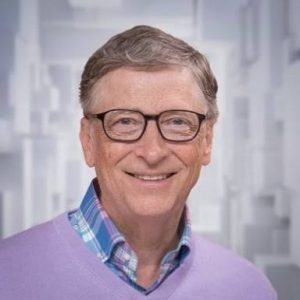 Federal Government's Economic Recovery And Growth Plan (ERGP) has been faulted by the Co-chair of the Bill & Melinda Gates Foundation, Bill Gates.
Addressing stakeholders at the special session of the National Economic Council (NEC) meeting presided over by Vice President Yemi Osinbajo in the Presidential Villa, Abuja, Gates stressed the need for the President Muhammadu Buhari-led administration to take a second look at the National Economic Plan in terms of its priorities for human capacity development.
He said the ERGP, which must reflect the people's needs, should also give priority to human capital development over physical capital as it is designed currently.
"To anchor the economy over the long term, investment in infrastructure and competitiveness must go hand in hand with investments in the people.
"People without roads, ports and factories can't flourish. And roads, ports and factories without skilled workers to build and manage them can't sustain an economy," Gates noted.
According to him, if the current trends in education and health continue and government spends the same amount with the same results, there will be no economic growth as the country will only be keeping with increase in population without improvement in Gross Domestic Product (GDP).
He said his foundation had so far committed over $1.6 billion in Nigeria and was willing to invest more towards making the country a global economic powerhouse that can provide opportunity for all its citizens.
The funds, according to the philanthropist, are committed to addressing issues of improved primary healthcare systems, agriculture, financial inclusion, routine immunisation and financial inclusion, among others.
Gates noted that, although Nigeria was approaching an upper middle-income status like Brazil, China and Mexico, there was the need for all its citizens to thrive in maximizing the huge potential of the country.
He lamented that Nigeria is one of the most dangerous places in the world to give birth, with the fourth worst maternal mortality rate ahead of only Sierra Leone, Central African Republic and Chad.