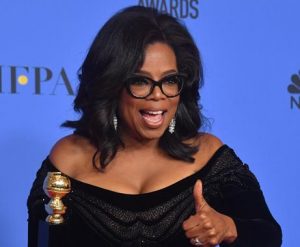 Lionel Messi has been adviced by American television personality and film star Oprah Winfrey on how he can win the World Cup with Argentina.
Oprah gave this advice when she was asked on Argentine television to give Messi an inspiring message to help him bring the World Cup back to Argentina.
Messi is widely considered one of the greatest players of all time, but his detractors often point to the fact he has never won international football's biggest trophy in order to rule out his eligibility as the best ever.
Argentina's best finish during the Messi era came four years ago when they knocked out Belgium and Holland  en route to the final, only to come undone by Germany after extra time in Rio de Janeiro.
Messi scored four goals at the 2014 World Cup, but ultimately fell short of adding the trophy to his extensive list of team and individual honours.
Winfrey has been labelled the most influential woman in the world, with a net worth of over $2.8bn.
The 64-year-old urged the Barcelona superstar to find his inner strength to achieve his biggest feat to date,  "Messi this message is for you, and it's something you already have to know in advance" she said.
"You have to go deep, deep inside of you to find all the strength you have inside. Messi, be a warrior."
Winfrey's co-star in new film "A Wrinkle in Time", Reese Witherspoon, also admitted a fondness for the 30-year-old, revealing that her son is a huge fan.
"Messi is my son's favourite player, he has all his jerseys and everything," Witherspoon said.
Messi is currently on international duty with Argentina as they prepare for the World Cup with two friendly matches over the coming week.
They take on Italy on Friday in a match being staged at Manchester City's Etihad Stadium, before travelling to the Continent to take on Spain on Tuesday.
Barca are still fighting on three fronts this season but Messi has admitted that he can't help but begin to think about this year's World Cup, which he suggested could be his last with the Albiceleste, according to ESPN.