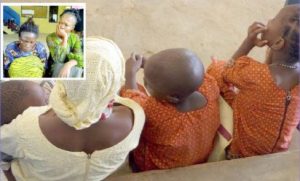 A 45-year-old woman, Nkiru Victoria, has been arrested for alleged buying and selling of children. Nkiru was said to have made a profit of N900, 000 for selling three siblings in Ile-Oluji area of Ondo State.
She had allegedly bought the kids for N600, 000 each and resold each for N900, 000. The children spent about four months in three different homes they were sold to in Asaba, Delta State capital before they were recovered.
One Esther, who had allegedly kidnapped and sold the three children earlier, had packed into No 12 Ayeyemi Street, Ile-Oluji, Ondo State as a tenant. Six days after, she was said to have stolen the children of same parents: Jude Stephen, four years; Monday Stephen, two years and Faith Stephen, 10 years. She faked church vigil to the eldest sister of the victims as their parents were away in the farm on the ill-fated day. After she had successfully stolen the siblings, she allegedly sold them to Augustine Anyanwu who, in turn, sold them to Nkiru. Nkiru, now in the custody of the police in Ondo State, admitted to have bought the children from Augustine at N600, 000 each and resold one of them to Uchena Ezewenke for N900, 000. Explaining how the transaction was carried out, she said Ezewenke approached her for a child to adopt and she contacted Augustine who later brought one of the children and payment was made. "I asked them to verify the source before selling the kid to me and I even consulted my pastor before transacting the business to know if it was legal", Ezewenke said.
Nkiru claimed not to know that the child was kidnapped before he was sold to her. Ezewenke said her inability to give birth to a child after 20 years in marriage pushed her into paying such amount for one of the children. Asked where she got the N900, 000 to buy the child from, she said, "My husband had to sell his land to raise the money". The suspect, who is a teacher in Asaba, said she took the action so that she could be a claimant to inheritance when her husband dies. "I may lose out if I fail to give birth to a child for my husband because his relatives will drive me away".
The three children were allegedly sold to three different persons in the Delta State capital.
A police source alleged that the suspects operated as a child stealing syndicate and they had their members spread across Ondo State. According to the police source, the syndicate members usually looked for houses where couples had many children whose ages were below ten. "They either moved to that same house if there was vacancy or looked for a house nearby and, with time, be friends with parents and children. They will then strike when least expected by disappearing with the children", the source said.
He cited the example of another case where a couple who moved into a house in Ondo town later disappeared with two siblings using the same method after staying in the new apartment for seven days. In an interview, the mother of the victims in the Ile Oluji child stealing incident, Patience Stephen, said she had left her four children at home on that fateful day while going to the farm but met only one when she returned with her husband. "The eldest of the children told us that her three younger siblings left the house with one of our co-tenants, Esther, for a vigil in her church", she narrated. "The said Esther had just packed into a room in our house and had spent about six days. "We looked around all churches in Ondo and Ile Oluji town and could not find them. I was so sad losing three children at a time. "We then reported at the police station and for about four months, we kept looking for the children until they found the three of them in different homes in Asaba where they had been sold to. "They had even changed the names of the children but I thank God for answering my prayers. He has been so faithful." Speaking on the arrest of the three suspected child traffickers, Ondo State spokesperson, Femi Joseph, explained that they were arrested in Asaba. Joseph said, "One Stephen Donatus 'm' of No 12 Ayeyemi Street, Ile-Oluji reported that his three children,Stephen Jude 'm' aged 4 years, Monday Stephen 'm' aged 2 years and Faith Stephen 'f' aged 10 years were taken away by a co-tenant to an unknown destination. "He reported the incident on the 16th of April, 2018 at about 2000hrs. The case was later transferred to the Commissioner of Police Monitoring Unit for investigation. "During investigation, Stephen Jude 'm' aged 4 years and Faith Stephen were found to be in possession of one Augustine Anyawu of Anambra State who was later charged to court. "Meanwhile, one of the children, Monday Stephen, was sold to one Nkiru Victoria for N600, 000 by the said Augustine Anyawu, while Mrs. Nkiru Victoria thereafter sold the said Monday Stephen to one Uchena Ezewenke for N900, 000." The spokesperson however said that Augustine Anyawu had been charged to court while the two other suspects will soon appear in court. He deplored the attitude of landlords who are only interested in house rent and not the identities of their would-be-tenants. According to him, many landlords fail to enter int town incident, the landlady, he disclosed, only collected six months' rent from the couple and left out information about them that would have helped the police in tracing them. "We are still looking for the suspects and kids and, to worsen the situation, the mother of the children does not even know the names of the tenants that she rented the room in her house to. "This should serve as a lesson to people. How can you, as a landlady, rent your house to unknown tenants?".