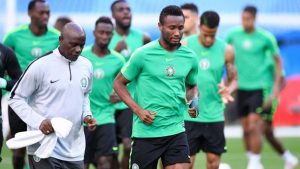 Mikel Obi's father, a 74-year-old Jos-based transporter, Chief Michael Obi, has opened up on the kind of relationship he has with his son.
Chief Obi was abducted while travelling for a family meeting along Makurdi-Enugu expressway from Jos in June.
It is the second time that he has been kidnapped, with the first one being in August 2011.
Mikel John Obi was told about his father's abduction just hours before he led Nigeria into their final World Cup group stage game against Argentina.
Mikel put aside the trauma to play the 90 minutes against Argentina, while he as well paid for the ransom for his release.
"I played while my father was in the hands of bandits," Mikel said.
"I had to suppress the trauma. I took a call four hours before kick-off to tell me what had happened."
However, Mikel's father shared a reason why the former Chelsea player could have played the match, stating that the relationship between him and his celebrity son was an 'issue'.
"My relationship with Mikel is an issue, but we don't know what to do. It's over five years now without a phone call from him to me. But he communicates with his mother," Obi said in an interview.
"There is nothing I have not done to fix it. God has told me that I should not feel hurt. When we start to talk about it, I say, 'Well, as long as I see him on TV, doing great, no problem".