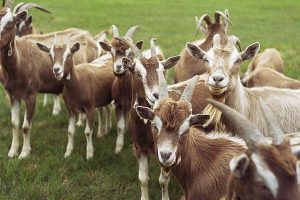 Gulspor, a Turkish football club have  sold 18 youth players and bought 10 goats in a bid to earn 'extra money from milk sales' which will be used to serve the club's priority needs.
The team's president Kenan Buyuklebleb said  the step to buy goats was dictated by a  lack of available finance as there is no essential governmental or sponsorship investment for Turkish youth teams performing in lower leagues.
 "We must have a constant income," Buyuklebleb told CNN Turkey. "Funds are overloaded because there is no government or corporate group support for our clubs. We need to get more investment for the kids (competing for the club)."
The club earned 15,000 Turkish lira (almost $2,600) after selling 18 youth players and plans to have around 5,000 lira ($863) profit from milk sales to cover the club's expenses.
"We got 10 goats. It will be a source of income for the youngsters," Buyuklebleb said, adding that he acted in the interests of the team. "We think that breeding goats is profitable. We have bought them to raise better young players."
 "We expect to have 4,000-5,000 lira profit. At the same time, the number of goats will increase. At the end of six years, we are planning to have 140 goats for the club," he added.
Based in the city of Isparta, Gulspor is one of the oldest clubs in Turkey, founded in 1954.