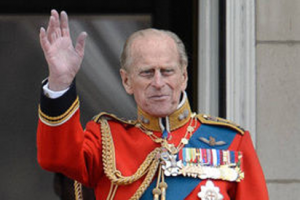 Prince Philip, Queen Elizabeth II's 96-year-old husband, has been admitted to hospital in London on Tuesday for planned surgery on his hip, Buckingham Palace said in a statement.
"His Royal Highness The Duke of Edinburgh was admitted to King Edward VII Hospital in London this afternoon, for planned surgery on his hip which will take place tomorrow," it said. Philip retired from public life last year but has since appeared several times at royal engagements alongside Elizabeth.
He was forced to miss a pre-Easter religious service last week, however, because he was having trouble with his hip. At a ceremony commemorating Britain's war dead last November, he appeared to be having trouble standing and leaned against a wall.
The prince has been largely blessed with good health, but he has been admitted to hospital with various complaints in recent years. He accompanied the queen on overseas visits as late as 2015. Never one to talk about his own feelings, the queen has been more forthcoming about his worth. "He has, quite simply, been my strength and stay all these years" the queen said in a golden wedding anniversary speech in 1997.
Prince Philippos of Greece and Denmark was born on a kitchen table on Corfu on June 10, 1921, the only son of prince Andrew of Greece — the younger brother of Greece's king Constantine — and princess Alice of Battenberg.
Aged just 18 months, he and his family were evacuated in a British Royal Navy ship from politically unstable Greece, with the toddler reputedly carried in a cot made from an orange box. The family settled in Paris, sending the young Philip to preparatory school in England when he was just seven, secondary school in southern Germany, and then to the austere Gordonstoun in Scotland, where he was head boy. He pursued his love of sailing and at the outbreak of World War II in 1939 became an outstanding Royal Navy cadet before serving on battleships in the Indian Ocean and the Mediterranean.
Philip was formally introduced to princess Elizabeth in July 1939 when her father king George VI and his family toured the Royal Naval College in Dartmouth, on England's south coast. They kept in touch during the war and met on a number of occasions. But it was not until July 1947 that their engagement was announced and they tied the knot that year on November 20 at Westminster Abbey. In his spare time Philip has been a keen horseman, competing at international level for Britain in the sport of carriage-driving.