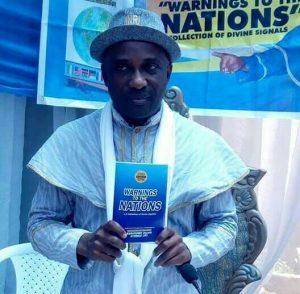 *VP Osinbajo Will Be Used And Dumped
*Bayo Adelabu Won't Get APC Guber Ticket In Oyo
*APC Will Use Technical Rigging In 2019 Elections
*NURTW Will Be Scrapped
*Northern States Will Form One Party After Buhari's Tenure
Primate Elijah Babatunde Ayodele, founder and spiritual leader at INRI Evangelical Spiritual Church, Lagos, has released the 2018/2019 edition of his annual prophecy book, 'Warning to The Nations'. At a parley in his church on Saturday, August 4th, 2018, the popular prophet highlights the contents of the book before a select group of journalists from Nigerian major print and online newspapers and bloggers. Below are excerpts from the encounter…
What has God shown you can stop the killings in the country?  
What will caution these killings in Nigeria, the solution if the government can do it is, (i) let's practice true federalism (ii) let there be no election in 2019 (iii) let's have an agreement that states should go on their own and take care of their resources, this will caution corruption, because they only bring tax or percentage to the federal to take care of themselves, that is when the state policemen can work. If we want Nigeria to move forward it is not the election in 2019 that is the way forward for the country, the solution is, let the states be independent, then our electoral body too, by the time we do that their won't be killings, and much later if we don't want to live together, you can now opt out. Either we like it or not Nigeria will not exceed 2035. Let us pray against the death of a prominent Emir. Let GLO chairman pray for his health and his business because I see very serious challenges facing his business soon. Benin Republic president won't win a second term in office. Ghanaian president should work hard and pray hard so that his second term would not be jeopardized on the altar of ethnicity. The international community will gang up against the Buhari government towards 2019 general elections. Rashidi Ladoja will not be Oyo governor again. He should perish the ambition,  says the Lord.
Have you given these solutions as a concerned Nigeria or as what God has showed you?
I'm not a politician, and I don't want to be one. If we see that that is not the solution then we can go for another one, but this is a solution that will bring us from the burden we are. We are not voting for conscience any longer in election, we are voting for money, and is everywhere in the world not Nigeria only.
Do you see the youth coming to leadership positions from 2019? 
If you are a youth and you don't have money you cannot be recognized, but when you have money you can go places. So any youth without money can't, and you must also have a political godfather and you must know how to join political thuggery which will give them the avenue, but every politician has youths as thugs, so my fear for the youth is we haven't seen any seriousness in them, they are not yet determined to do what is right, expect they shun violence for any political purpose and have integrity. Poverty is also the problem, there is too much of hardship.
You once spoke about senate president, Saraki, that if  didn't contest for presidency, God will be annoyed with him. Now that Saraki is with PDP are you still standing that he should contest?
See the new prophecy book first because it is a very important issue. We said it a long time ago and you can tell what is happening now.
Do we take whatever you say here as prophecy so that people will not confuse your words with opinion?
I'm not a politician and I don't give opinions, all I say is prophetical.
 Sometimes ago you said you warned Ekiti Governor, Fayose which he disobeyed and that was why you said he failed to win governorship for his party; now in Osun State, by September there will be election. APC has broken into factions, what should we expect in Osun State?
First on the Osun State governorship election; we said it many weeks ago that the victory is between three political parties, APC, PDP and ADP. But i see APC winning if it puts its house in order. I see fight between the APC chairman, Adams Oshiomhole, and the party's Board of Trustees. This position of the Lord remains. The whole messages are contained in the book. On Fayose, I want to tell you that Fayose shot himself in the foot because of greed, self-interest and ingratitude, and these led to his party's defeat. If he had not disobeyed God, his party would have been victorious in the July 14th 2018 election. God revealed to us and we warned Fayose to desist from being selfish, greedy and ungrateful but he snubbed God's warnings. He said he is also a prophet.  He kept deceiving the people that he had the gift of the prophets. Now, he has realized that God is not mocked. 
In 2014, you said that APC would take over power after Goodluck Jonathan, and that you foresaw another party coming up that would defeat APC and rule for 18 years and the party will be formed by some aggrieved elements from across the north. Are we getting close to the prophecy?
I still stand by that prophecy. God said that in the nearest future, a party will take over, and there will be no PDP or APC. We are going to see a strictly Northern party, a strong, regional party by the Northerners.
What do you foreseen on the international scene?
Democrat will win the next election in America. President Donald Trump will survive impeachment but will not get a second term. He will be technically defeated. I see Texas in America being recognized as an independent state in 2038.
Who is God telling you will be the next president of Nigeria, do you see Buhari coming back; you said some political dynasties will go away by 2019, are you specifically referring to somebody, is Saraki the man God said will help Nigeria?      
Buhari's second time is very dicey, and the honest truth is that if Buhari goes for a second term by force, there will be problems. God wants to use Saraki for something symbolic for four years only. If PDP can give him the presidential ticket, the party will bounce back and Nigeria will change for good. Otherwise, I don't see any positive changes ahead.
You said God wants to use Saraki for four years, don't you think that he could probably have achieved it because, in this present time that he is the senate president, some of the things happening under his leadership are not good enough.           
You as journalist can analyze that, but me I cannot because I'm not speaking as a politician but God's servant. That is what I know and that is how I will answer it. If PDP wants to win, let them give Saraki the presidential ticket. Saraki's leadership will change a lot of things.
You said you don't see Nigeria existing beyond 2035, I want to know if there will be bloodbath or the breakup will be peaceful?
Yes, Nigeria will break up but God says Nigeria's breakup will be peaceful. 
Can you speak on why men of God contradict one another while giving prophecies?
God can give a prophet a message and for one reason or the other, He can take the message to another prophet to deliver. This is how God works. That is why I cannot analyze God the way He works. Either positive or negative, either it come to pass or not, I'm not in a position to judge God or any prophet or speak on anybody's prophecies.
You said in the book that so many PDP governors will decamp, who are the governors?
They are both PDP and APC governors. Let's wait and see. The book also talks about our warning in 2017 that the governorship ambition of Senator Solomon Yayi will hit the rocks. But if he can apply more strategies, I see him returning to the senate. Also, the book warned about the deaths of both former UN secretary-general, Kofi Annan and American lady singer, Aretha Franklin. I see INEC and Police being used by the ruling party in 2019 to get what I call 'technical rigging'. I see new billionaire businessmen  emerging in Nigeria while the likes of Dangote and Otedola will fizzle out. I see the government scrapping NURTW and new, corporate body will be established to run the transport union as a separate ministry and government will be appointing the leadership. This is what the Lord says. Akpabio will not be able to hijack the PDP structure from Akwa Ibom governor.
What do you foresee about the forthcoming Osun State governorship election, especially concerning the dancing senator
I don't know any dancing senator. But APC should put their house in order if they want to win the election. If they don't they will lose it. I don't see Ladi Adebutu realizing his political ambition in PDP. Likewise, Adebayo Adelabu will not be given governorship ticket in Oyo State. That is what the Lord says. He is just wasting his time and energy. I see pride killing his political ambition. He needs to seek God's face. Amaju Pinnick's time at NFF is over. Ambode should be careful not to fight Tinubu after winning a second term in 2019. I see him winning. There will be no Lagos State in some years from now because Lagos State will be divided into two different states. I see Ekiti, Ibadan and Ondo producing food for the whole country in the nearest future. I foresee Kwara State becoming a political Mecca for other parts of Nigeria and it will be rich in rice production and cattle rearing. Kwara will also discover petrol, tin and gold in large quantity.