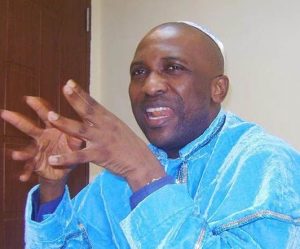 The founder and spiritual head of the INRI Evangelical Spiritual Church, Ejigbo, Lagos State, Primate Elijah Babatunde Ayodele, has sent his warm greeting to the president of the federal republic of Nigeria, Muhammadu Buhari on the occasion of his birthday which came up two days ago. The famous prophet also greeted the senate president, Dr. Bukola Saraki, whose birthday falls within the same month with the president's, emphasizing that indeed it is for a divine purpose that both leaders do not just belong in the same political party but also share birth month.
Primate Ayodele's goodwill messages to the two leaders were sent during his ministry's annual charity programme where he regularly gifts food items, clothes and cash to thousands of people including church members and outsiders in the spirit of the season. The prophet also called on Nigerian leaders at all levels of government to always have the interest of the masses at heart by formulating policies that are human-friendly.
Ayodele then advises both Buhari and Saraki to work with a common purpose and ensure that poverty if not totally eradicated in their time, is brought down to the barest minimum. "Nigeria as giant of Africa needs prayer. The government should create plans for more jobs. In 2019, the electorate will decide and I see some politicians being disappointed. Any politician that is found to have performed below expectation will be voted out of office," stated the man of God.