Sokoto State Governor, Aminu Waziri Tambuwal has said that it is true that President Muhammadu Buhari has health challenges and also accused a cabal of running Buhari"s government.
Tambuwal also declared that he had been under tremendous pressure to join the 2019 presidential race.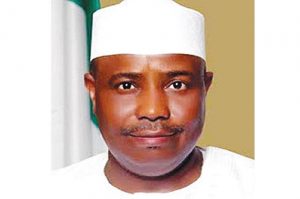 Addressing thousands of youths and students who stormed the Governor's Office in appreciation of his involving the youths in his administration, Tambuwal said, "We supported Muhammadu Buhari in 2015 to become President unconditionally and we admit that Buhari has integrity but that's not the only requirement for leadership.
"We are aware that the President is affected by serious challenges of health and is being held captive by a cabal that runs Nigeria for their personal interests."
Buhari faced a major medical challenge in 2017 that saw him spending the better part of the year outside the country.
He left the country on January 19, 2017, on what the Presidency described then as a medical vacation.
When the trip was prolonged, presidential aides announced that the President would be staying back in the British capital to enable him to collect results of some medical tests he did.
He returned to the country on March 10, 2017, after a 49-day medical sojourn, saying he had never been that sick in his life.
He then gave an indication that he would return to London for further checkup.
After missing public events, including three consecutive weekly Federal Executive Council meetings which raised anxiety in the country, Buhari on May 7, 2017,  returned to London for medical consultations.
He returned to the country on August 19, 2017.
On his presidential ambition, Tambuwal said he was still making consultations because of his belief that leadership was a collective responsibility.
He said, "I have been under intense pressure from various quarters in Nigeria including leaders of the country and friends of Nigeria outside the country to contest the presidency.
"But leadership is a collective decision and I have never asked to be made a leader at any time in my life. So, my aspiration will be determined by my people and after that, I will make my political decision known in a matter of days.
On the way forward for the country, Tambuwal told the youths that the future for a greater Nigeria lay with the younger generation, assuring them of his commitment to the welfare and empowerment of this group.