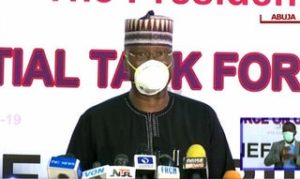 The Federal Government has approved the relaxation of restriction  placed on  churches and mosques starting from Tuesday (today).
The Chairman of the presidential task force and Secretary to the Government of the Federation, Mr Boss Mustapha, who disclosed this at the PTF press briefing in Abuja, said the reopening of churches and mosques would be based on guidelines issued by the task force and protocols agreed on by states.
The Coordinator of the PTF, Dr Sani Aliyu, gave detailed explanations of the recommendations approved by the President.
Mustapha said the ban on interstate movements, which the President, in his April 27 broadcast, imposed on the nation, remained. He stated that the second phase of eased lockdown  would begin on Tuesday (today) and end on June 29.
Buhari had on April 27 imposed an 8pm to 6am curfew on the nation and introduced a total lockdown on Kano State, which recorded a surge in COVID-19 cases.
Mustapha said the PTF on Sunday submitted a report to the President based on its review of the eased lockdown. According to him, the second phase will be guided by "data and science."
He  said the PTF recommendations were, among others, based on the impacts of COVID-19 on the global economy and all national economies as well as pain the lockdown brought upon the poor.
He said the PTF took into consideration the advisory of the World Health Organisation on the need to follow a slow and phased approach that is data driven.
The chairman said, under the eased lockdown, Nigeria's confirmed cases  increased, adding that the majority of the confirmed cases were in 20 out of  the 774  local government areas in the country.
Mustpha stated, "The PTF submitted its recommendations and the President has approved the following for implementation over the next four weeks spanning June 2 to June 29 subject to review: cautious advance into the second phase of the national response to COVID-19."
According to him, during the second phase, there will be mobilisation of resources at state and local government levels to create public awareness on COVID -19.
He also said there would be "ban on gatherings of more than 20 people outside of a workplace (and)  relaxation of restriction on places of worship based on guidelines issued by the PTF and protocols agreed by state governments."
Other recommendations approved by the President, according to him, include "managed access to markets and locations of economic activity to limit the risk of transmission; ban on inter-state travels except for movement of agricultural produce, petroleum products, manufactured goods and essential services; mandatory use of non-medical face masks in public places and provision of hand washing facilities/sanitisers in all public places."
There will also be  extensive temperature checks in public places; maintenance of two metres  between people in public places.
Mustapha said  the President also approved easing the total lockdown of Kano State and introduction of phase one of the eased lockdown in the state.