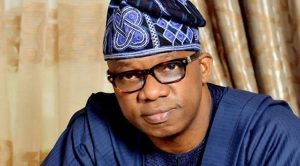 Nigeria Medical Association, Ogun State chapter and the South-West caucus of the Association of Resident Doctors, on Monday, attacked the state governor, Dapo Abiodun, for berating doctors at the Olabisi Onabanjo Teaching Hospital, Sagamu.
The NMA said it was disappointed and ashamed of the governor for calling its members irresponsible for demanding their rights.
The NARD South-West stated its position in a statement by its leader, Dr Oiwoh Sebastine in Abeokuta on Monday.
The NARD caucus comprising members in Ogun, Lagos, Oyo, Osun, Ekiti and Ondo states said the doctors' demand was in line with international best practices needed for the care of the entire populace.
Abiodun was reported to have described the strike embarked upon by the Resident Doctors at the OOUTH, Sagamu, as irresponsible and politically motivated.
The NMA on Monday expressed disappointment over the governor's comment.
The NMA chairman, Ismail Lawal, said he was ashamed over the comment made by the governor.
He lamented that political leaders were fond of making doctors beg for their rights.
Lawal said, "I am ashamed and disappointed. It implies that we are already grooming a constituted authority in the state. At our level, I believe that any doctor who passed through medical school for a minimum of six years to get NBBS, that person should have something to offer.
"It is unbecoming of political officers to see your asking for your rights as if they are doing you a favour."
The NMA chairman urged the governor to implement the recommendations of a committee set up to look into the crisis at the OOUTH.