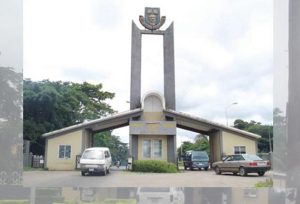 A Magistrate Court has remanded five students of the Obafemi Awolowo University, Ile-Ife in the Kosere prison yard, Ilesa, Osun State, since last week.
The students, Oloniniran Gbenga (400 level Geography),  Oyedeji Samson (300 level Pharmacy), Olajide Ademola (500 level Electrical Electronic Engineering), Jimoh Oladipupo (300 level Biochemistry) and Adeniji John (300 level Electrical Electronic), were arraigned at the Ife Magistrate court on Thursday.
They were arrested for allegedly protesting a vacation order and the closure of their hostel by the school authorities.
Students and members of staff of the Obafemi Awolowo University, Ile-Ife have been expressing displeasure over the development, which they feared could ignite a major crisis on campus.
The students were charged for "acting in a manner capable of breaching the peace of the university campus" and the case was subsequently adjourned till April 3.
They were however, given bail conditions including payment of N500,000 each with two civil servants on level 12 who are regular taxpayers to stand as sureties or remain in prison till the next sitting.
The members of staff also said they were not comfortable with the action of the university management.
Chairman of the Senior Staff Association of Nigerian University, OAU chapter, Adewole Oketunde, appealed to the university authorities to secure the unconditional release of the students from prison without further delay.
Oketunde said his members did not support the action of the school authorities and wondered why the management would be comfortable with a situation whereby its students would be arrested by the police and arraigned in court.