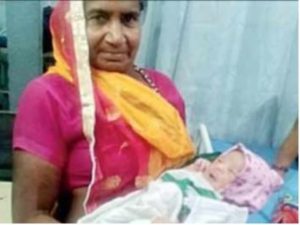 Inspired by the lockdown order to curb the spread of the coronavirus in different countries across the world, a couple in India has named their newborn baby son 'Lockdown'.
The boy was born in Bacheri village in the Sheopur district of central India, on Monday during India's 21-day strict lockdown.
When asked by the hospital staff what name they should write on the new baby's birth certificate, the boy's mother Manju Mail and father Raghunath revealed their unusual choice.
"He is Lockdown, as he was born during the lockdown period," Manju said.
The baby's father Raghunath added: "My son and our family will remember this time of crisis throughout our life. It is a significant name.
"The whole world is using the lockdown as a means to steam this pandemic. We should not take Lockdown lightly."
The unusual birth name is coming a week after another couple in India named their twin babies "Covid" and "Corona".
According to the couple based in Raipur, the capital city of Chhattisgarh state in central India, the names would remind them about all the hardships they conquered amid the coronavirus lockdown, ahead of a successful delivery on the night of March 26-27 at a government hospital.
"I was blessed with the twins, a boy and a girl, in the early hours on March 27. We have named them Covid (boy) and Corona (girl) for now," Preeti Verma, the 27-old mother of the newborns, said.
"The delivery happened after facing several difficulties and therefore, I and my husband wanted to make the day memorable."
Giving reasons for the unusual name decision for their twins, Verma said;
"Indeed the virus is dangerous and life-threatening but its outbreak made people focus on sanitation, hygiene and inculcate other good habits. Thus, we thought about these names."
On 24 March, the Government of India under Prime Minister Narendra Modi ordered a nationwide lockdown for 21 days, limiting movement of the entire 1.3 billion population of India as a preventive measure against the 2020 coronavirus pandemic in India.