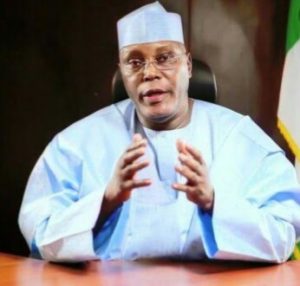 Former Vice President, Atiku Abubakar, gave his opinion concerning the controversy surrounding the right of regions to establish internal security outfits, saying that they were necessary because the nation's military and paramilitary forces are overstretched and underpaid.
This his his second statement after the first one, on the issue that regions have the right to self-defence and setting up internal outfit was not the same as seeking succession.
In the statement titled, "Self Defense Is International Human Rights, Guaranteed By Article 51 of the UN Charter," the former presidential candidate of the Peoples Democratic Party (PDP) stated
"As a nation, our police, armed forces and paramilitary bodies have shown great gallantry, patriotism and dedication to duty. They are our first line of defence against enemies of our nation and saboteurs within our midst. I laud, value and acknowledge them, which is why I awarded scholarships and gave other support to the children of some of our fallen heroes.
"Having said that, I must add that the reality on the ground in Nigeria today is that our armed and paramilitary forces are overstretched. To deny this is to unpatriotically put their lives at risk. This we must not do. They deserve better from us.
: "To say that we do not need the services of those who are patriotic enough to voluntarily put their lives at risk to ensure the protection of the lives and property of Nigerians is to deny the obvious.
Speaking of their altruistic services, Atiku said
"I salute groups like the Civilian Joint Task Force in the North East, who provided and continue to provide an invaluable service to Nigeria and her peoples, at great cost to themselves, both in human lives and in productive hours, for which they are not well remunerated.
"I also acknowledge and appreciate the work that hunters and vigilantes have done and are still doing to help boost security in states scattered across Nigeria, including in the North East and Zamfara, Jigawa and Taraba States, to mention a few. Not a few Nigerians are able to sleep with two eyes closed, because of the action of these bodies of dedicated and gallant countrymen.