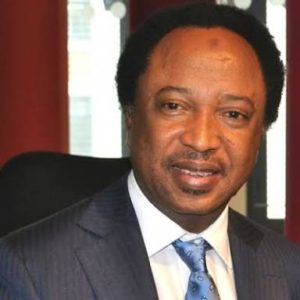 During a courtesy visit to el­der statesmen, Alh Tanko Yakasai and Alh Yusuf Maitama Sule, the Chair­man, Senate Commit­tee on Local and Foreign Debts  and Senator repre­senting Kaduna Central Senato­rial District, Shehu Sani, has, Wednesday, urged President Muhammadu Buhari and the Chairman, Economic and Finan­cial Crimes Commission (EFCC) Magu to extend their anti-corruption fight to the Middle East and Far East where he al­leged some corrupt Nigeri­ans ferried Nigerian's looted treasury to.
According to him, "hun­dreds of billions of tax­payers' money have been stolen over the years and we have a duty to recover them, but it is very evi­dently clear that the idea of looted funds and the re­covery from outside Nige­ria seems to be beginning and ending with Abacha as if it is only Abacha that stole money and he is the only person whose money should be returned back to Nigeria."
"I believe that we should go beyond that and check on how our own money was filtered away and taken to countries of the Middle East and also the Far East."
Sani who is also a front line Civil Society Organ­isation (CSO) leader also said that, "it is dis­turbing that at this very critical moment of our country's history, we have been faced with a series of economic challenges that clearly if not managed very well will lead us to self-destruction."
"In the last four to five decades, we have been dependent on oil revenue and we have seen how over the years, the resources ac­crued from such revenue have not reflected or have not tallied with the level of social and economic de­velopment we have seen on the ground."
"We have seen how a culture of waste and mis­management over the years, how a culture of lack of saving has made it impossible for us to ad­dress some issues that are facing us as a country. It is a fact that Nigerians are suffering and the country that was seen to be very promising in Africa in the past is now lacking the capacity to stir the ship of our state and to lead other African states."
He equally noted that "It is disgraceful that our political ruling elite over the years have not been able to save for the rainy day. It has reached a point today whereby states can no longer pay salaries; they go deeper and deeper into debt; and it also looks as if there is no clear plan on ground to exit ourselves from the problems we have found ourselves," he concluded.