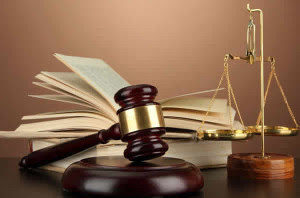 Ibrahim Omilade, the son of a traditional ruler in Oshodi area of Lagos State, alongside two brothers, Shola and Kayode Oni, were, yesterday, condemned to death for killing one Suleiman Afolabi, during a fight on a Christmas day three years ago.
Omilade, Kayode and Shola are to die by hanging according to the verdict handed down by Justice Kudirat Jose of an Ikeja High Court, who found them guilty of killing their victim, Afolabi, when a brawl ensued among them on December 25, 2012.
Justice Jose ruled: "I pronounce the defendants guilty in respect of the charge of murder and conspiracy. They shall be sentenced to death, hanged by the neck until they are dead."
Justice Ajose cautioned youths to learn from the convicts' fate, noting that youths should be careful in settling scores.
The journey to the gallows for the convicts began on December 25, 2012 during a fight at the deceased's house, when according to the defendants they were invited by a neighbour to celebrate the Christmas.
They said a young boy came in and informed them that the deceased brother, Akeem Afolabi, had threatened to deal with them.
They claimed that they went to inquire what could have led to the threat, but that Akeem ordered them out in a rude manner.
He was alleged to have immediately entered his apartment and came out with a cutlass to attack them, an attempt, they said one of them blocked with his hand and got injured.
The convicts further narrated to the court during their trial that it was while they were trying to escape that Suleiman, a younger brother to Akeem, was hit on the waist with the cutlass.
They told the court that, they even thought the matter was a minor one until they got to know some days later that a doctor had pronounced the deceased dead.