Mr. Godfrey Onyeama and the British High Commissioner to Nigeria we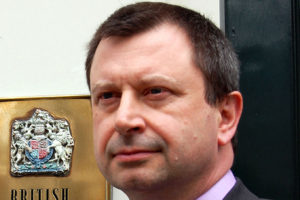 re yesterday summoned by the House of Representatives Committee on Diaspora Affairs, to explain the reason behind alleged illegal detention of a Nigerian residing in the UK, Abiodun Juba, for 18 months without trial.
They are also to explain why Juba was deported to Nigeria after 26 years in UK without any criminal record.
The Minister is also expected to explain to the Rita-Orji-led committee, the efforts his ministry had made towards the plight of a Nigerian, Ms Julie Osamese, whose kidney was allegedly stolen by medical personnel in Turin, Italy.
The House Committee, after hearing the testimony of Abiodun, 28, whose parents reside in UK but was deported and dumped at Lagos airport, disclosed that the British envoy to Nigeria would have to appear to explain why he (Abiodun) a pizza nut delivery driver, was illegally deported.
The deportee, who had dragged the British government to court in the UK, was allegedly nabbed by the police for allegedly abducting one Elleese Woods with a known record to have elopped from her parents 17 times.
But the Committee Chairperson vowed that her committee would not leave any stone unturned to ensure the welfare and protection of Nigerians in the diaspora, noting that both the minister and the British envoy would have to explain why the British authorities first clamped Juba into detention for 18 months, and then deported him to Nigeria, in spite of the fact that his parents were based in the UK.
According to her, the inhuman treatment meted out to Juba was clearly a deliberate act to tarnish the image of Nigerians.