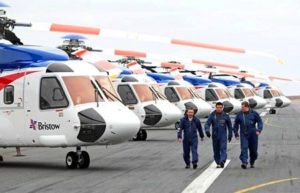 Comrade Isaac Balami, President of the National Association of Aircraft Pilots and Engineers, NAAPE, has explained why their association has shut down the operations of Bristow Helicopters, saying the group can no longer overlook the continued preferential treatment to expatriates while maltreating qualified Nigerians.
As activities remained crippled following the shutdown, Balami declared that Bristow will not fly until they do the needful and stop seeing expatriates as more superior than Nigerians "in our own country".
According to him, "Well, we have been forced to shut down Bristow Helicopters today, about 40 helicopters and fix wing aircrafts across the country – Lagos, Port Harcourt, Warri, and all the Oil and Gas contracts.
"We were forced to do this because Bristow Helicopters have refused to do the needful.
"What they do now is bring in and train young engineers and pilots, once they become captains and they become experienced aircraft engineers, instead of promoting them or ensuring they take over from the expatriates, they sack them and bring in fresh cadets, so that they can keep expatriates in this country.
"Bristow is about 60 years old in this country, why are we still having expatriates running everything?
"When Aero was operating about 35 helicopters in the Oil and Gas, 100% of the checks, maintenance and operations were done by Nigerians. These are things that Nigerians can do.
"The last incident that took place at Bristow Helicopters where we were able to save all the passengers on board, the captain was a female Nigerian pilot, so we are even more competent and qualified but our people don't respect us. We are slaves in our own country.
"Nigeria has become a slave camp; they don't treat us with respect. Imagine an aircraft engineer working in Bristow for 12 hours six days a week; no over time, no precession, nothing! This is a slave camp and we can't take it.
"That is why we want the management to do the needful. They don't honour and respect the contract of services that have been signed and 'agreed' upon.
"There are so many challenges. They just sacked 21 Nigerian engineers and pilots. They didn't sack them because they were incompetent, or because of safety issues. They sacked them and employed four Ghanaians.
"They claim there is recession and they are paying foreigners and we can't take care of our own. We cannot allow this to happen in our country. This is our country and we must create jobs. Any company that is not ready to create jobs for Nigerians will have to go and that is the truth."
Asked if the management were ready to sit with the pilots' association to address the issues, Balami said, "We don't care; we have shut down all the gates nationwide.
"There will be no engine start up permit from the direct engine controllers. If this will take us one month or two months, Bristow will not fly until they do the needful, they must create Nigerian jobs for Nigerian citizens.
"If they are willing to repent and change from their deeds and call back our Nigerian engineers and pilots that were sacked.
"Imagine sacking someone who has gotten to the level of a chief pilot or a director of operations because you don't want him to compete with the expatriates, why?
"We can do this job better than them. We understand the terrain more than any expatriate; we have been able to demonstrate that.
"We were trained in the same school. We have the same European, American and NCA certification like them. We even beat them in class whenever we are overseas and we come back to our own country only to be treated as slaves.
"We cannot take it," he fumed.