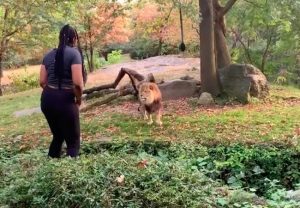 An unidentified woman has been sued for criminal trespass after jumping over the Bronx Zoo security fence in New York just to perform a dance stunt before a lion.
The woman managed to get into the African lion exhibit at the Bronx Zoo, and paraded in front of one of the lions.
The lion watched as the woman danced and greeted him, even as bystanders watched on.
Another zoo visitor who witnessed the daring do, Hernán Reynoso, said, "She just was there, dancing, saying 'hi' to the lion."
"The lion soon got agitated by the woman and roared at her, prompting me to leave the scene with my family," Reynoso added.
While Bronx Zoo officials said the woman escaped unhurt, they condemned the action, saying, "We have a zero-tolerance policy for stunts such as this."
"This action was a serious violation and unlawful trespass that could have resulted in serious injury or death.
"Barriers and rules are in place to keep both visitors, staff, and animals safe.
"Bronx Zoo is filing a criminal trespass report against the woman," the zoo authorities said.