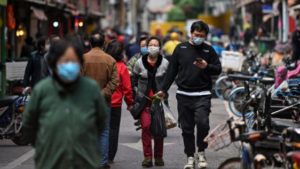 Geoffrey Onyeama, Minister of Foreign Affairs, has declared that communication lapse is responsible for the recent alleged assault on Nigerians and other Africans by the Chinese in Guangzhou City.
Onyeama, who spoke yesterday at a forum to clarify on the trending videos showing maltreatment of some Nigerians, however, said the issue was receiving both countries governments' attention.
He stated that immediately the information got to the Federal Government, the Nigerian Embassy in Beijing and its Consulate in Guangzhou were contacted for necessary action.
He explained that the Chinese were rather trying to contain further spread of COVID-19 by some Nigerians, who already tested positive for the virus but had declined isolation.
"Government takes the issue of human rights and wellbeing of Nigerians all over the world very seriously.
"Concerning the video involving Nigerians in Guangzhou, the narrative was that Nigerians were being discriminated against and evicted from their residences and also, not allowed to enter hotels as carriers of COVID-19.
"But there was a video stating that the situation was not as bad as expressed in the earlier video," he stated.
It was learnt that a Nigerian who operated a restaurant in the city tested positive for the virus, yet Nigerians continued to troop to the restaurant and as such the authorities directed that those who went to the restaurant be isolated.
Onyema further said those people who did not understand the reason for which they were selected for isolation and denied access to their residences had put up the video.
"But communication would have been better. The African Consulate in the area would have been informed appropriately," he stated.
The Chinese Ambassador to Nigeria, Zhou Pingjian, confirmed Onyema's position, stressing that Chinese government abhors discrimination and has consequently informed its citizens accordingly.
Noting that Nigeria strongly supported China during the outbreak of the virus, he said China would not do anything intentionally to hurt Nigerians, he added, "We are fighting the virus, not Nigerians."
He said the prevalence of COVID-19 among foreigners, especially Nigerians, necessitated the action, pointing out that Nigerians and other Africans were found to be more vulnerable, given the number of those who have already tested positive to the virus in China.
He, however, admitted that the steps already deployed to contain further spread and importation of coronavirus was not properly communicated.
Pingjian stressed that according to the current statistics of the outbreak of the Covid-19 in Guangzhou, Nigerians and other Africans were most vulnerable, hence the measures were meant to protect them.