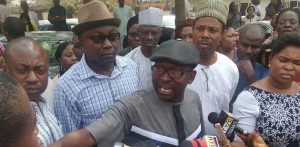 In protest against the recent reinstatement of the Executive Secretary of the National Health Insurance Scheme, Prof. Usman Yusuf, some employees under the aegis of the Association of Senior Civil Servants of Nigeria and the Joint Health Sector Union on Thursday paralysed activities at the NHIS, demanding his removal.
The protest began about 40 minutes after Yusuf resumed at the headquarters of the agency in Abuja.
The unionists who sang protest songs said the reinstatement of Yusuf would thwart his investigation by the Economic and Financial Crimes Commission.
The protesters, who described the reinstatament saga as 'Yusufgate', said it was a mockery of President Muhammadu Buhari's anti-corruption war.
The Chairman of the NHIS arm of the union, Mr. Razaq Omomeji, said the protests would continue until Buhari reversed Yusuf's reinstatement.
Omomeji said Yusuf had bastardised the scheme and his return would only worsen affairs at the agency.