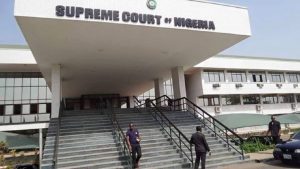 A suit seeking the disqualification of President Muhammadu Buhari in the February 23,2019 election for alleged perjury has been dismissed by the Supreme Court.
The appellants, Kalu Kalu, Labaran Ismail and Hassy El-Kuris, through their counsel, Ukpai Ukairo, had approached the apex court praying it to nullify the president's nomination and subsequent victory at the poll on the grounds that he allegedly lied on oath in his Form CF 001 submitted to the Independent National Electoral Commission (INEC).
Justice Mary Odili, who delivered the lead judgment, held that the case was statute-barred.
There was, nonetheless, a mild drama when the Senior State Counsel in the Ministry of Justice, Abdullahi Abubakar, announced appearance for President Buhari, the first respondent in the matter.
The announcement was visited with spontaneous reactions from the panel of justices, who wondered why a state counsel from a federal ministry should be representing a private individual.
They went further to issue a stern warning to Abubakar, charging him to desist from such an act of using public office to defend a private litigation.
Justice Muhammad Dattijo, who faulted the engagement of the lawyer for the matter, cited the United States of America, whose democratic system Nigeria had copied.
The judge reminded the lawyer that in the course of his numerous court cases, former President Bill Clinton never used state resources to fund his litigations.
He therefore reminded Buhari that his action contravened public officers' code of conduct.
Ruling, Justice Odili held that the court had noted Abubakar's inappropriate appearance, stating: "This practice must be discouraged."
Consequently, she dismissed the appeal, having been withdrawn by the appellants who were convinced that the suit had gone out of the prescribed time for pre-election matter.
The case was earlier dismissed by the Court of Appeal for same reason having upheld the ruling of a lower court that threw out the appeal for being filed outside the 14 days recognised by law.
The appellants had prayed the appellate and apex courts to hear the suit on merit.
They had also sought a declaration that Buhari allegedly submitted false information regarding his qualification and certificates to INEC for purposes of contesting the election.
The claimants subsequently prayed for an order of court directing the electoral body to remove Buhari's name as candidate of the APC and another order restraining him from parading himself as a candidate in the exercise as well as compelling the political party not to recognise him as its standard-bearer.