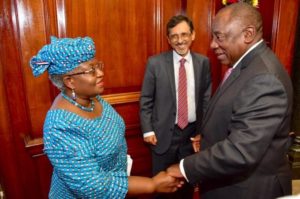 Cyril Ramaphosa, the Chairperson of the African Union and President of South Africa, has appointed ex-Nigerian finance minister, Dr Ngozi Okonjo-Iweala, Dr Donald Kaberuka, Mr Tidjane Thiam and Mr Trevor Manuel as Special Envoys of the African Union.
They are to mobilise international support for Africa's efforts to address the economic challenges African countries will face as a result of the COVID-19 pandemic.
Okonjo-Iweala had been appointed a member of the Economic Advisory Council by Ramaphosa in March; to help give South Africa a coherent economic policy. The appointment was for a term of three years.
Kaberuka is an economist and former President and Chairman of the Board of Directors of the African Development Bank, while Manuel was the longest-serving Minister of Finance in South Africa and formerly headed the country's National Planning Commission.
Thiam, a banker and businessman, is the former Chief Executive Officer of Credit Suisse Group, a leading global  financial services company.