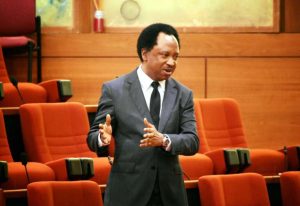 Senator representing Kaduna Central in the National Assembly, Shehu Sani has been suspended by the All Progressives Congress, APC.
The Senator was suspended in the Tudun-Wada North chapter of the party.
In a statement signed by its chairman, Ibrahim Salisu Togo, Tudun-Wada North chapter of the APC insisted that their decision was based on the constitution of the party.
The statement reads, "We, the Tudun Wada North (Ward 6) Exco of the All Progressive Congress (APC) in Kaduna South Local Government Area wish to affirm our decision on the indefinite suspension of Senator Shehu Sani.
"This affirmation was informed by the need for updating the general public and the good people of Kaduna State regarding our collective resolve.
"We make bold to say.that our decision was based on the provisions of the constitution of our great party. Therefore, Senator Shehu Sani remains suspended. In all fairness to the party and Kaduna State voters, the only pre-condition for lining this suspension on Senator Shehu Sani is for the lawmaker to openly apologize to the leadership of our great party for his various acts of misconduct and disrespectful attitudes towards both his constituents, party leadership and his vicious media attacks against our amiable President, Muhammadu Buhari.
"He should also apologize to the Government and people of Kaduna State for frustrating the $350 million loan meant to develop the State in the areas of Education. Healthcare delivery, Works and Housing, Women and Youth Empowerment among others.
"We cannot justify the pain to which the disappointed voters of Kaduna State have been subjected by the Senator's uncooperative and selfish attitude over the World Bank loan.