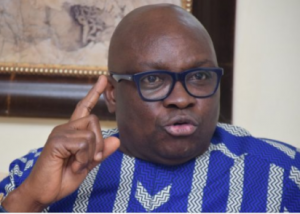 Ekiti State governor, Ayodele Fayose has asked the politicians that brought President Muhammadu Buhari to seek God's forgiveness.
Fayose also lamented that Nigeria's economy had become worse under the All Progressives Congress-led Federal Government, which he said has no solution to the myriads of problems facing the country. The governor said this at a meeting of the Osoko Mass Movement, OMM, attended by representatives of  labour unions, civil servants and public institutions in the state.
He said: "People that voted Buhari must seek repentance. People thought he was coming to make a difference but he has caused more economic hardship. We are being ruled by fiat. Unemployment is second to none. The Transparency International said corruption had become worse among Nigerians." The governor urged the people to vote for a well-educated candidate in the election and not to sell their votes even as he said his deputy, Prof. Kolapo Olusola, is the most educated and suitably qualified aspirant to rule the state.
He said: "If you say I'm not educated, now I have presented a professor. We are not supposed to retrogress, we should progress. A professor is higher than a doctor and supervises him. By all standard, I'm presenting the most suitably qualified aspirant."
"Our interest was somewhere else but his name kept reappearing. Ekiti needs continuity, I have put in my best in the circumstance and I know he will do it better."
Fayose said the APC government had not benefitted the Ekiti people in any way despite having a former governor of the state, Dr. Kayode Fayemi, as the Minister of Mines and Steel Development. He said: "There are many mineral deposits in Ekiti which have been left untapped despite our son being the Minister of Mines and Steel Development.