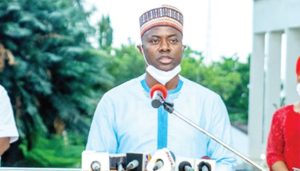 Oyo State Government has announced a partial reopening of schools for pupils in terminal classes across the state.
The state Commissioner for Education, Science and Technology, Olasunkanmi Olaleye, in a circular dated June 24, 2020, said pupils in Primary 6, JSS 3 and SSS 3 should resume classes from Monday, July 6, 2020.
In preparation for the resumption, he said all public primary and secondary schoolteachers should return to duty on Monday, June 29.
Olaeye insisted that there must be strict compliance with the COVID-19 protocols as discussed with the school administrators and teachers at a workshop on preparation for resumption.
While forbidding the presence of food vendors on the school premises, he said all pupils must be encouraged to bring their food from home.
According to the statement, parents/guardians are mandated to provide their children and wards with face masks without which they will not be allowed into the school.
"The school management/principals in conjunction with the PTA and the SGB should provide hand-washing materials (buckets with tap, soap and sanitisers) for use in the school.
"It becomes a serious offence for any private school without a certificate of attendance at the training on COVID-19 protocols to reopen after the lockdown," Olaleye said in the statement.