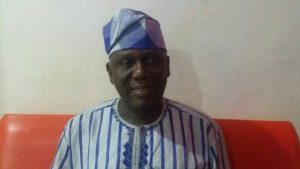 A former Commissioner for Works in Ogun State, Hon. Waliu Taiwo is confident that a member of the Federal House of Representatives representing Ikenne/Shagamu/Remo North, Hon. Ladi Adebutu is the most qualified to emerge the next governor of the state.
Taiwo, the Director General of Ladi Adebutu Campaign Organisation, emphasized that time is ripe for Ogun State to be governed by a home grown politician and that Ladi, a chieftain of the Peoples Democratic Party (PDP), has all the requisite qualities for the job.
He also spoke with  journalists recently on the agitations of the Yewa Awori people who are clamoring for power shift to Ogun West Senatorial District. Enjoy the excerpt of the interview….
You are the Director General of Ladi Adebutu Campaign Organisation for his Ogun State Governorship ambition, but there is a clamor by the Yewa Awori people where you are from to have the governorship position in 2019. Why did you align with an aspirant from Ogun East?
Thank you for that question. I want to say that I am one of the leaders that is committed to Ogun West for Governor and I have demonstrated that in the past. You would allow me to go down memory lane, to when the thing started. When I was elected as a member of the Ogun State House of Assembly in 1992, there was an alliance between Ogun West and Ogun Central for the position of governorship. I tried to unite our people with the Egbas. We were 30 members in the house then, we had four from Yewa, two from us and Ifo was part of our senatorial district. The whole thing started when we wanted to have the senatorial election. We have three senatorial districts in the state, one from the east, no matter whom you are, you would be an Ijebu man, one from central, no matter whom you are, you would be an Egba man. But the case of Ogun West was different, because we had Ifo, who are Egbas as part of us. After having an Egba man as senatorial candidate for the central district, they wanted to take the one for the west district. That was why I had to align with the Egbados (Yewas) then. Later, we brought Senator Otegbola out. We went round to convince our people that the only slot for the Eguns, Inagos, Ohori and Awori, an Egba man wanted to take it. I rallied the people of Awori, Egun and Yewa.
That was how Senator Otegbola emerged before that republic was aborted by the late Gen. Sanni Abacha.
Since then, I have been taking care of the interest of Ogun West. I remember we had a meeting amongst the Yewas and Aworis and we aligned with the Egbas. Our caucus was headed by Chief Kola Olomide. When the Ijebus came, they aligned with us.
During the first term of former president Olusegun Obasanjo as president, we in the west were of the opinion that we should have the next governorship slot in the state in 2003 and we went to Aso Rock to meet Obasanjo, I was part of the team. When we got there, we told Obasanjo what we wanted. Jubril Martins Kuye was there. Obasanjo said that they would appeal to the Ijebus and Egbas not to take part in the election. He said that the worse scenario is for a Remo man to emerge. We were able to decode this and we said that let's support a Remo man, we can still afford to wait for eight years.
The Ijebus started with Chief Olabisi Onabanjo, the Egbas had Chief Olusegun Osoba. We thought it should be our turn, but they said there is still Remo. We said, let the Remos  have the slot and we had an agreement with former governor Gbenga Daniel aka OGD, that he would give us the Deputy Governor and Commissioner for Works and that he would support us when he is leaving.
In fairness to him, he fulfilled his promise and I was appointed as the Commissioner for Works. As OGD was finishing his second term, the leaders picked Gboyega Nasir Isiaka, but to our surprise, Gen. Tunji Olurin (rtd.), who had been contacted to be the governorship candidate as he is from the area, and who had said he was not interested, suddenly said he was going to contest. We were taken aback, we thought it was a joke, so he went into the election with us and there was only one person from Egba, who eventually won the election.
That time, the Ijebus supported us financially and voted for our party. Then, again, during the 2015 general elections, the same thing happened. The 2011 election was the brightest chance we had, I was the senatorial candidate for the West then from the PDP. We didn't know how Olurin and Senator Kashamu Buruji came together. They came with a court injunction, which was why we started the PPN.
At the end of the 2015 elections, the Action Congress of Nigeria had 61,000 votes, the PDP had 59,000 and I, with three weeks old in the PPN before the election had 45,000 votes. Had it been that there were no divisions, we would have won easily. So, I put the blame on the Yewas for their misfortune. Olurin is matured enough, he had been a governor before. So, he should have known that they wanted to use him against the interest of his people. I think it is what they had in mind that they did. He should have know the implications.
Let me remind you that in 2015, Senator Ibikunle Amosun was picked by the Egbas because he was the only one. Then, GNI was picked by the PDP with the support of Chief Adebutu Kessinghton aka Baba Ijebu.
Adebutu supported GNI as the candidate of the PDP morally and financially, baba Adebutu was the one that picked him out of the three aspirants from Ogun West.
After former president Goodluck Jonathan lost his election, there was no money coming from Abuja again. We had just little money, it was Kessinghton Adebutu that sent money to us a day to the general election to support the interest of the Ogun West, it is not all about GNI. The Ijebus voted for us then. They delivered their senator and two House of Representatives members.
So, the Ijebus didn't contest the first and second term, they said they could not wait again, do you now blame them for our stupidity. We could not see beyond our noses, we allowed them to use us against ourselves. So, when they said they would not support again, I would not blame them at all. It appears we are not ready for it. I am not saying Ogun West cannot be governor, what we are saying to the people agitating now is that instead of abusing people like us that have tried, they should come and tell us their ideas, they should come and tell us what they know if the project is possible
They need to convince me, I need to be persuaded, so that is why we are supporting Ogun East because they have supported us twice and we failed ourselves twice.
Again, any political analyst should know that any election involving Ogun West and Ogun East, we are disadvantaged. We are disadvantaged because we have five local governments and they have nine, and before five could overtake nine, it would take time. It is when they want to cheat us that they would say one is Remo and one is Ijebu, they can always come together as one and take common decision. Ijebu is Ijebu, which is why we are supporting them.
What the agitators are saying is that when Gbenga Daniel was there, he developed Ijebu and that the current Governor, Senator Ibikunle Amosun is developing Ogun Central. So if an Ogun West person gets there he would develop the area. Does it not make sense?
There is nothing wrong in that, but before you can say that, you must get to the office first. We are still struggling to get power and you are already telling them what you want to use the power for. Get there first before you use the power. If I know that because you have done this to us, I will also do this to you, then I will not support you. This is the problem with the people of Ogun West, instead of them to keep quiet. Until you get there, get the power before you know what to do. Keep quiet first, but they continue to make mistakes. I read a lot of things like this on the social media. It is on record that we were able to get deputy governor for Ogun West. If they had got it right, when we had Otegbeye and Odebiyi, we would have got there. But over 20 years later, we got the deputy governor. We almost got the governorship, but they supported Olurin, they should have told him to step down then. Look at it, how many candidates are from Ogun West now.
Since I know the history of democracy in Ogun West, I can tell you we are not doing it well. During the time of the late Olabisi Onabanjo, two people came out from Ogun West, during Osoba time, about seven people contested against him, during the time of OGD, they contested, they also contested against Amosun because they don't listen.
Instead of them to rally round others and wait for their own time, they sit down and think mannas would come from heaven. These are the realities.
What qualities did you see in Hon. Ladi Adebutu before you supported him?
People may not know the kind of person he is until you get close to him. He read analytical chemistry. Enough of imported governors, this is a man that has been living among us. While his siblings live in Lekki, Banana Island and Ikoyi in Lagos State, he has always been living in Iperu in Ogun State. He is a man that understands. He consults a lot. I don't know what people call technocrat, as I am, I studied electrical engineering, are you saying I am not a technocrat, I have been in politics for decades. We have lawyers and doctors that have been in politics for many years, are you saying they are not technocrats. We want a home grown politician that understands what we are talking about. Ladi has been in politics since 1992. He is a member of the House of Representatives, and he has been using his money to help the people. These are the qualities I see in him. He is someone that has people that we can take his case to. He is a responsible man. When you are discussing with him, he would assume he doesn't have any knowledge, yet he is very intelligent.
What are his chances since there are other aspirants within the party?
Who are the other aspirants, is it in the PDP. I don't know them, if you say GNI, I have not seen the signs that he is serious. When Hon. Adebutu told me he wanted to start campaign immediately after they were sworn-in in 2015 in the National Assembly, I was surprised. I thought he was talking about the 2015 election as if they took Amosun to court. If you want to contest for Governorship position you must have structures. He told me that it was a marathon race. When the PDP convention was coming, the congress and all that, a lot of things happened, we had court cases. Kashamu Buruju started from the state, now he is in the federal and we won nearly all the cases. Already, we have a structure that Ladi Adebutu sponsored. Despite this, the party is open to everybody. After the last convention, he said that we should separate Ladi Adebutu from the party, which was why we established the Ladi Adebutu Campaign Organisation of which I am the Director General. Let the party have it's own identity and anybody that wants to contest is free. But up till now, we have not seen anybody coming out. If you have something you can come out. I can now see the wisdom in starting early. But if you don't have the resources it is not easy. Instead of this man to get tired, every time he is getting stronger and stronger.
It is clear that the APC has taken over in the South West and in Nigeria, so how possible will it be for the PDP to now win in Ogun State in 2019?
When we started during the first term of former president Obasanjo, it was Alliance for Democracy (AD) in the South West, by his second term, it was the PDP. While Jonathan was still in power, ACN took over, so what makes you believe that the PDP would not take over the South West in 2019.
We as enlightened people in the South West know exactly what we are doing. If it has happened before it can happen again.
Now the APC is there, they have not been able to fulfill their promises. When I lost election in 2015, I felt bad, but now I am happy that Jonathan lost the election. If he had won the election, people would have said that petrol would have been N25 now, then they would have said pupils would have been fed in the schools and that there would have been five million jobs. Now they are there, what have they done. They said PDP was corrupt, but the corrupt government gave us GSM, built roads, stabilized the naira against the dollars and built Nigeria's economy to be the biggest in Africa and so on. But APC  incorruptible government that said they have blocked all the loopholes, what are they doing with the money they recovered. The head of the Federal Inland Revenue Service (FIRS), Mr. Babatunde Fowler said he collected so many trillions, we are selling fuel, the budget of this year is, N8.6 Trillion, and they say they are going to borrow to finance it. Former president Jonathan did not borrow for all those years. The highest budget of Jonathan was about N4.6 Trillion. Tell me a project they start and completed for close to four years now. The Kaduna-Abuja rail they commissioned was about 95% completed before Jonathan left. Tell me what they are doing with all those money they are realizing and we have all these hardships. What they made us to believe is not happening; they used to blame the PDP then. Former president Barack Obama of the United States of America took over during recession in the country, he did not complain about George Bush and the country got out of recession quickly. They are still paying fuel subsidy without budgeting for it. See the killings by Fulani herdsmen and the man cannot even make any serious statement about that. The Boko Haram members kidnapped Chibok Girls then and this government negotiated the release of about 100 girls with Two Million euros, now they have taken 110 girls back, will you negotiate back. They killed so many people in Benue, President Muhammadu Buhari didn't go there, his son had an accident and a whole minister of state was at the airport to welcome him. What about the innocent people that were killed? A pregnant woman was killed and I saw a small boy killed. 110 girls were kidnapped in Dapchi and yet the President and about 20 Governors went to Kano for a wedding and they were laughing and enjoying themselves..
Let us go back a bit, you told us the reason for supporting Ladi Adebutu, what have you put in place to convince the people of Ogun West not to see you as a traitor and will you avoid a repeat of what has happened?
Governorship position is eight years development plan, not four years. If you miss it you have to wait again. I told you we met Obasanjo and he said Remo person would be Governor then. We said let us give it to them and wait for eight years. It took me negotiations and time to convince the people then. What you have just said would have been easy if they had listened. So, in 2011, we made mistake again until Governor Ibikunle Amosun won. In Ogun West, we have Ogun West agenda, Yewa Agenda and we have Awori Agenda. Awori Agenda can be part of Yewa Agenda, but it does not have to be Yewa/Awori Agenda.  We are also grassroots men, this involved constant preparation. What is the difference between GNI and Amosun votes then. It depends on the ability of our people to understand. I have been involved for the past 25 years and all our efforts frustrated. I know the role I have been playing and I would continue to play it till death. Let anyone come out and tell me he has contributed more than me in Ogun West. The Yewa Traditional Council, I worked on it during my stay in the state House of Assembly. We were the one that did it, I know the role I played to develop it. We ensured that Iyabo Anishulowo was nominated from Ogun West as a commissioner in the Ogun State Civil Service Commission when the nominees were sent to the House of Assembly and no Ogun West person was included in the list. I led the fight to reject the list until Anishulowo from Ogun West was nominated and cleared. We got them deputy governor, tell me if any other one has done more than that. Our people are not united, when we wanted to have Yewa Traditional Council, we wanted to have Olu of Yewaland, they said no, it should be Olu of Ilaro. So let anybody that has done more than that should come and tell me what they have done and where they are coming from. We are on ground and we are making development plan.
Why is Ladi Adebutu repairing roads and giving out transformers
That tells you what he would do, when he gets into office and has access to more funds. He has been spending his personal money. We are not talking of people who neglect rural areas for urban areas.  The Ayobo Itele road is so bad now. They are demolishing houses in Ota to build roads whereas Ota is an ancient town. Ota is bigger than what you are seeing, there are other inner roads. You construct six lanes from the town and discharge it into four lanes. You want to plant flowers in an area with mud houses. We did a 35 kilometer road with N400 Million, but he is doing a kilometer for N1.4 Billion, imagine Ijoko to Akute with five fly overs that could not be completed. The beauty of Abeokuta as an ancient town has been destroyed. In London, they don't demolish houses because of modernisation..
Are you confident that Hon. Ladi Adebutu would win the 2019 governorship election in Ogun State?
Definitely, is there any other candidate? We heard that Hon. Solomon Olamilekan aka Yayi is going back to Lagos State or that he has not been accepted by Governor Amosun or he is busy convincing the people of Ogun West that he is from there. GNI is a very fine gentleman, but he does not have a platform yet, I understand he is going to the SDP.  We have done this before with PPN, when OGD was even a sitting governor. It is not easy to build structure, to be in 236 wards, yet we even have units in all the wards. So they are still battling with a lot of things. Even Amosun does not know who to choose as a successor.
Are you still interested in public office?
I am not saying I would not contest, but I am doing my homework because I have lost twice. But I think I am getting a good feedback, the community leaders have been coming to me.
What efforts are you making to resolve the conflict in the PDP?
There is no party without conflict; we have been trying our best. We have been able to manage our crisis.
There is a rumour that Ladi Adebutu and OGD are fighting, how true is this?
It is a mere rumour, recently Baba Adebutu Kessinghton invited stakeholders to his house and we were there too. OGD was there, Ladi was there and we discovered there was nothing. The problem we had was that there were some people that went to OGD, they didn't know that we could go far in this process and fed him with unfounded tales, and we later saw that it was all lies. The meeting was very interesting because at the end of the meeting, it was clear to everybody that we are pursuing the same Ladi Adebutu governorship agenda.  Also, OGD called another meeting in his house and leaders across the 20 local governments of Ogun State were there where all issues were thrashed in the open and we all left Sagamu more convinced that the PDP is more united than ever.