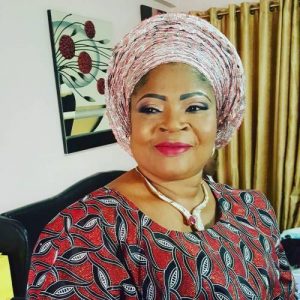 Queen Salawa Abeni, Veteran Nigerian singer, has taken to her Instagram to call out a blackmailer who is threatening to release her nude photos.
The waka musician whose songs are predominantly in the Yoruba language shared screenshots of her conversations with the blackmailer who identified himself as Jason.
Rather than cave into her blackmailer's demands for money to prevent him from releasing the nudes, the "Shooting Stars" singer updated her followers about the development. She also went ahead to share the photos herself.
In her Instagram post, she expressed her disappointment at how the unknown individual is trying to "tarnish my image and destroy my career of over 45 years."
She disclosed that the blackmail messages came in on her phone this morning (yesterday). The blackmailer threatened to release the said photos which are very old pictures if she didn't pay him money.
She wrote in part:
"These could've been pictures of me in the hospital or even with my partner, but is this what has become of us?? I plead with everybody out there to be very careful as our current situation has made people very desperate. I am almost 60 years old, I have worked very hard and made a name for myself for somebody to believe that they can threaten and trample on my feelings, this is very sad."
According to her, she "decided to share the messages and pictures sent by this person with everyone" so that all could see it.
She concluded by letting her blackmailer know that she refuses to be bullied as she is quite sure she is old enough to be his mother.
See her post below:
Queen Salawa Abeni's professional career in waka music when she released her debut album titled, Late General Murtala Ramat Mohammed, in 1976, on Leader Records. It became the first recording by a female artist in Yoruba Songs to sell over a million copies in Nigeria.
Abeni continued recording for Leader until 1986 when she ended a relationship with the record label's owner, Lateef Adepoju. She married Kollington Ayinla and joined his record label instead, staying with him until 1994.
She was crowned "Queen of Waka Music" by the Alaafin of Oyo, Oba Lamidi Adeyemi in 1992. Waka is an Islamic-influenced, traditional Yoruba music style, popularized by Batile Alake; it is a much older genre than jùjú and fuji.