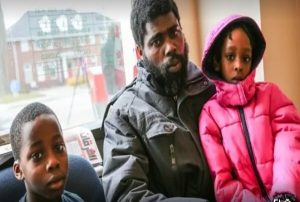 A Nigerian, Afeez Bakare and his immediate family are facing the battles of their lives, as the Canadian government has ordered their deportation back to Nigeria from Canada where they had been residing since 2017.
Bakare claimed they fled Nigeria out of fear that their daughter would be subjected to female genital mutilation.
The Nigerian family living in Windsor said they fear for their lives as a result of media attention they have received after a deportation order previously issued by the Canadian government.
Afeez, his wife Rasheedat Bakare, their son Faaiq and daughter Faiqah all fled Nigeria and arrived in Canada in 2017. The family's youngest daughter Farhana was born in Canada in 2018.
The family of five had sought, but denied refugee status last Thursday and were told to leave the country by 3 p.m on Friday.
According to Rasheedat "My children's life, my husband's life is at risk," said Rasheedat Bakare. "We ran away because they wanted to circumcise my baby girl — the one I brought from Africa. When I got to Canada, I had another baby girl. Currently, I'm pregnant with another baby girl. Now (I'll have) three baby girls — and all of their lives are going to be at risk."
The family's case caught the attention of the African Community Organization of Windsor (ACOW), a group that staged a protest last Friday outside the office of Windsor West NDP MP Brian Masse.
Claude Saizonou, president of the African Community Organization of Windsor, says his group gathered outside Brian Masse's office because "we've been through this kind of situation so many times."
On Friday afternoon, after Rasheedat — who is approximately five months pregnant — collapsed and was rushed to the hospital, the government issued a temporary delay on the deportation order.
Afeez Bakare said he's not sure when he and his family will be required to leave.
"I don't want my life and my family to be in danger," he said. "My wife is in a state where she is restless, she cannot do anything.
"What led her to have a shock has not yet been resolved, said Afeez Bakare. So she has been crying ever since she left the hospital.
Bakare says that he fears for his family's lives because of the media attention his family has received.
"If I go back home, they are going to kill me, they're going to kill my wife," he said.
A spokesperson for the Canadian Border Services Agency (CBSA) said the federal Privacy Act prevents the organization from "providing comments or details on this specific case.