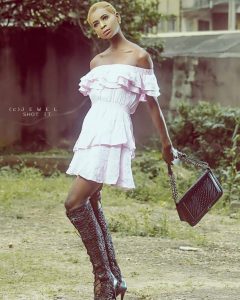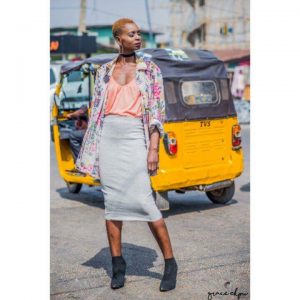 Despite having been around for only a few years, Ohaeme Harret Ebere has already made waves in the modeling industry by walking on respected Runways.
Tell us about your background?
My name is Ohaeme Harret Ebere , I grew up in Lagos in Ilasamaja before we finally moved to Alagbado . I had my primary school, in Omobola Nursery and Primary School, then my Secondary Education at Federal Goverment Girls College Sagamu, and finally Olabisi Onabanjo University for my BSc in Economics. After school I did some jobs before contesting for Miss Beauty and Brains in which I won the Pageant giving me a way to pursue my career in modelling.
What has modelling taught you?
Modelling has taught me to be bold since I was a little shy growing up as a child.
Are you involved in any pet project?
For now, I get involve in career talks with my friend, going round Secondary School to teach about Modelling as a Career.
What is your unique selling point?
My smiles and cute face is my unique selling point
There are cases of exploitation in beauty pageant, how has your experience been so far?
Well my experience has been cool.
What's your fashion and beauty routine like?
My fashion routine is simply anything that fits me and makes me look comfortable. My beauty routine is waking up, doing a little exercise and taking lots of water. When you take water, your body takes its normal course throughout the day.
How do you handle male attention?
Well, you have to be nice to the men paying attention to you, else they see you as a proud person. Most times I try to be nice to them and manage not to be rude to ones that don't respect what you do. Life is simple if you can manage that.
Do you think a young child could emulate your lifestyle?
Yes. But first, the young person have to understand that whatever you do, put God first in everything.