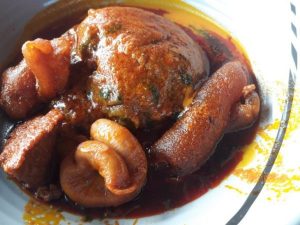 The eldest son of late Mrs Olanike Ogunleye, Segun Ogunleye, said on Saturday that the death of his mother and two siblings – Funmilayo and Wonderful – was beyond eating yam flour (amala).
Segun, 33, said he had part of the same yam flour at his Ikole Ekiti residence, which he eats.
"It is only God that knows the cause of the incident. It is beyond my imagination. It is believed that it is a spiritual attack," he said.
Segun said amala came into the picture when people asked of the last meal the deceased ate.
The family ate amala on Saturday evening at their residence in Odo Ayedun, Ikole Council area of Ekiti State,  and Olanike, 59, and her two children died later.
Her husband, 74-year-old Jacob Ogunleye, was admitted to the  Federal Teaching Hospital, Ido Ekiti, where he is being treated.
Two dogs owned by the family also died, but could not be confirmed if they were fed with the amala.
The Speaker, Ekiti State House of Assembly, Funminiyi Afuye, on Thursday directed the House Committee on Health to begin investigation into the incident.
Segun said he received a call from his dad on Saturday night about one of his siblings.
He said, "They invited our pastor for prayer. During the first session of the prayer, two of our dogs died. I came down from Ikole Ekiti on Sunday morning and asked from my younger sister what was happening. She told me that she didn't feel anything. When I asked the pastor, he said it was an attack. We are now being told that it is food poisoning, I don't really believe it is poison.
"I rushed them to the  Specialists' Hospital in Ikole. The attitude of the personnel there was another issue. I observed that my younger sister would not have died if there had been a proper attention. They later referred us to the Federal Teaching Hospital, Ado Ekiti on Sunday night.
"Getting an ambulance to convey them was another problem. We were on this for about two or three hours before we could get an ambulance. It was on our way to FETHI that my mother and one of the sisters died. I have part of that yam flour that I'm taking in my house.
He said his father was getting better, adding that the tests carried out on him at FETHI did not indicate food poisoning.
"I'm only putting myself together because I don't just know what to say. I'm speechless! I miss everything about my mother. She never took us for granted. She loved us," Segun added.
Segun's maternal uncle, Mr Wole Fanimo, described the incident as shocking to the entire family.
He said the family had yet to ascertain the cause of their death, adding that they were awaiting the results of the tests carried out on the food.
"We are feeling it is but we are waiting for the results of the test from the people who came to pack the food and some other things," he said.