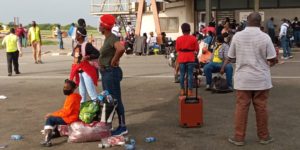 The Minister of Foreign Affairs, Geoffrey Onyeama, has apologised to Nigerians that returned from the United Kingdom for spending three hours in a plane at the Lagos airport on Friday.
He said the delay was caused by the refusal of the British Airways crew to fly them to Abuja because the British nationals they were billed to fly back to Heathrow Airport were in Lagos.
About 255 Nigerians, who were flown into Lagos from London on account of the COVID-19, were reportedly kept inside the plane for a long time, leading to protests by the evacuees.
Commenting on the incident on Friday during a briefing by the Presidential Task Force on COVID-19 in Abuja, the minister said, "The challenge we had with the flight is that we had wanted it to come directly to Abuja because that is where the passengers are supposed to be quarantined, but the British (Airways) insisted that the people they wanted to take back to the UK were in Lagos and for them to fly down to Abuja would exceed the balance for the pilot and so this put us in a very awkward position. This (evacuation) involved a lot of coordination; unfortunately, we didn't get it right.
"This is a most regrettable situation and we apologise wholeheartedly to those passengers. The latest report I heard from Lagos is that they eventually came to Abuja where they would now be quarantined.
Responding to a question about Nigerians stranded in France, the minister affirmed that they could fly to Cotonou, Benin Republic and return home through the land borders.