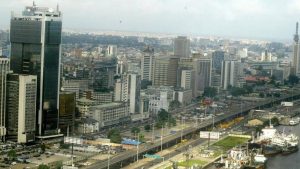 According to the 2018 Global Liveability Index released by The Economist Intelligence Unit and World Bank, Lagos state has been ranked third among the ten least liveable cities in the world.
The report, which rated Lagos 138th of the 140 cities on earth, said it based the report on five parameters.
It cited the criteria to be political and social stability, education, culture, environment, infrastructure and access to healthcare.
In the report, Lagos was rated 37.5 per cent and 33.3 per cent in healthcare and education.
It said Lagos recorded 53.5 per cent in culture and environment and 46.4 per cent in infrastructure.
According to the report, the only cities, which were scored lower than Lagos on the ranking, were Syria and Bangladesh, while Vienna, the Austrian capital, was ranked the most liveable city in the world.
The report also noted that unavailability of adequate infrastructure and conflicts, among others were responsible for many of the lowest scores, adding that stability indicators have the highest single scores.
"Conflict will not just cause disruption in its own right, it will also damage infrastructure, overburden hospitals and undermine the availability of goods, services and recreational activities.
"This is particularly visible in the ranks of cities like Dhaka (Bangladesh, 139th), Harare (Zimbabwe, 135th), Douala (Cameroon, 133rd) and Dakar (Senegal, 131st).
"Nevertheless, the impact of stability indicators, especially those related to crime, cannot be understated for some of these cities.
"The Middle East, Africa and Asia account for the ten lowest-scoring cities in the survey where violence, whether through crime, civil insurgency, terrorism or war, has played a strong role."
The report disclosed that the concept of liveability assessed in locations around the world, provide the best or the worst living conditions.
This, it, said stretches from benchmarking perceptions of development levels, to assigning a hardship allowance as part of expatriate relocation packages.
"The Economist Intelligence Unit's liveability rating quantifies the challenges that might be presented to an individual's lifestyle in any given location, and allows for direct comparison between locations.
"Every city is assigned a rating of relative comfort for over 30 qualitative and quantitative factors across five broad categories: stability, healthcare, culture and environment, education, and infrastructure," the report said.