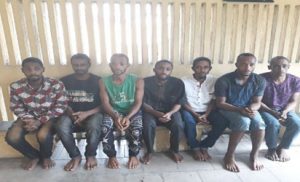 Kidnappers of John Iheanacho, a 53-year-old who was attacked by a gang of kidnappers who opened fire on him, after they accosted him at the entrance of his residence, at DPO Avenue, off Rehabilitation Center, Iriebe Port Harcourt have confessed on how the crime was carried out.
While John was still bleeding profusely, his kidnappers bundled him into their operational vehicle and took him to an Island off Umuosi Community in Afam area of Oyingbo Local Government Area of Rivers State. He was held in captivity for nine days without treatment while his kidnappers demanded a ransom of N50million from members of his family, informing them that someone had paid them N30million to kill Iheanacho, who was also the President of the NNPC's Eastern Zonal Investment Corporative Society.
His family was said to have paid the value of N6million in dollars to the kidnappers in two installments between March 27 and April 5, 2018, but after making the last payment, the kidnappers stopped communicating with the family. Nothing was heard from them again and Iheanacho was not released as promised. His family and his colleagues were therefore thrown into confusion.
It was gathered that while the negotiations were still going on, the Management of the Port Harcourt Zonal office of the NNPC reported the incident at the Anti-Kidnapping Unit of the Rivers State Police Command which commenced investigations into the matter and arrested some suspects including some members of the cooperative society. But the national office of the NNPC in Abuja, took up the matter 12 days after the kidnappers had collected the agreed ransom but still refused to release him by writing a petition to the Inspector General of Police, Ibrahim Idris, asking him to investigate the circumstances surrounding Iheanacho's kidnapping, his continuous incarceration and to arrest all persons involved in the kidnapping. It was learnt that IGP Idris directed his operatives at the Intelligence Response Team, IRT, led by Deputy Commissioner of Police, Abba Kyari to commence investigation into the incident.
A team of operatives led by a Superintendent of Police identified simply as Martin, was then deployed to Port Harcourt to track down the kidnappers.
It was further learnt that the IRT operatives spoke with some staff of the NNPC and equally visited Iheanacho's residence where they obtained some vital information about the incident as Iheanacho's Toyota Highland was also snatched from him at the time he was kidnapped.
The IRT operatives contacted its reliable informants who were dealing in stolen vehicles in Rivers, Abia and Imo States to trace a robbed Toyota Highlander registered in Rivers State. After a long search, the operatives succeeded in trailing one of the suspects to Osisioma area of Abia State, where he was arrested and during interrogation, he confessed to be a member of the gang that kidnapped Iheanacho and one other woman on March 2018 in Rivers State and sold their vehicles in Aba. He said Iheanachor died in the gang's camp in Umuosi, where his corpse was also buried. The suspect identified himself as Samuel, the gang's operational driver and his confessions aided police in rounding up six other members of the gang including its leader known as Prosper who confessed to various kidnappings within Rivers State.
The gang's operational rifle and some ammunition were recovered. It was discovered that the gang was just on random kidnapping when they accosted Iheanacho and kidnapped him. Two of the kidnappers who were residents of Umuosi, where Iheanacho was held and killed, took police and a pathologist to the site where Iheanachor was buried in a shallow grave and his body was exhumed and taken to the mortuary.
The six suspects, Teddy Ifeanyi, Chikere Eleke, Steven Iniobong, Chima Mac, Samuel Ikechukwu and Fabiyawari Marcus, accused their gang leader, Nwoke Prosper, of being greedy, stating that he allowed Iheanacho to die in their camp because he insisted on collecting N30million from Iheanacho's family. But Prosper on his part blamed Iheanacho's death on his boys for trying to scheme him out of the ransom.
Narrating his story, Prosper said, "I am a native of Osisioma Local Government Area of Abia State, I am 28 years old and I am married with four children. I reside in Aba with my mother and my wife who I married in the year 2010 but she left me in year 2016, after I was arrested and taken to Port Harcourt Prison. I went into crime in the year 2016, before then I was selling fairly used clothess at Oil-Mill Market in Eleme area and at Onyigbo market, Rivers State. While I was into crime, I was living with my elder brother at Chuba area before he relocated to Sierra Leone. I moved out of his house and rented an apartment at Afam area of Oyingbo. One day I went to a night club at Second Artillery area where I met one Anele, who introduced me into armed robbery and kidnapping. Anele was a big spender at the night club and I decided to make him my friend. When I asked him the kind of job he was doing, he said he was a businessman but when we became very close, he told me that he was into armed robbery and kidnapping and he said I could join him if I was interested. Since I needed money to take care of my wife and children, I took up Anele's offer and he linked me up with two other members of his gang known as East-Man and Gift. "Armed with two guns, we attacked a residential estate on Artillery area and robbed some occupants of the estate of their phones and laptops. We sold the items to one Alhaji at Presidential Hotel Junction off Aba Road, Port Harcourt. I don't know the amount Anele got from the Alhaji, but I was given N25,000. One week later, some policemen got hint of our gang and they arrested Anele who led the policemen to my house and got me arrested and other members of my gang including the Alhaji. "The police took the Alhaji to his house and recovered all the stolen items from him which were given back to the owners, while the police granted us bail. Two weeks later one of my friends at Oyingbo, known as Chima, introduce me to one of his friends, Available, who needed help to kidnap a woman. I then brought in Aniele and two of his friends with whom we abducted the woman on her street at Oyingbo and and took her to an Island in Umuosi Community in Afam area. One of my friends known as Chikere who is a native of Umuosi, provided the camp we used. Anele also gave Chikere some money to always provide food and other items we would need to keep the woman." "After Anele had collected the ransom from the woman's husband, he gave Chima, Chikere and I, N100,000 each as our share and he blindfolded the woman and took her away. I don't know what transpired between Anele and the other guys over the sharing formula but they started quarreling and the police came and arrested me. They took all the members of my gang excluding Chikere to court and we were remanded in prison custody. I spent 13 months in prison before I was granted bail and was released in December 2017. While in prison I heard about a man known as Italian who was a highly notorious criminal, with so many boys, who supplied arms and sponsored armed robbery and kidnapping operations in Rivers and other South-South and South Eastern States of the country. One of his boys I met in Port Harcourt Prison gave me his phone number and when I spoke with him from the prison, he asked me to meet him at Okrika whenever I was released. After my release, I met him and asked for a rifle for my operations but he demanded that I should bring his own share of every operation I carried out which I agreed to. In December 2017 we kidnapped a woman and kept her for four days afterwhich her husband paid us N200,000 before we released her. By the end of January, 2018, we carried out another operation along Shell road, in Onyingbo where we saw a man making calls in his Mercedez Benz Formatic. We kidnapped him but abandoned his vehicle because it had a tracker. Seven of us took part in the operation. We took the man to Chikere's community island. The man spent six days with us and he paid N1.7million. It was the man's wife who brought the money at Osisioma Aba, Abia State. On March 20 2018, we regrouped and went in search of victims. Around Irebe area off Aba road, Portharcourt, we saw a man driving a Toyota car into the estate and suspected he must be a very rich person, so we followed him until he got to his gate and I pointed my gun at him. He was struggling with us and asking what was his offence. I then told him that we were kidnappers and all we wanted from him was his money. When I came close to the man, he grabbed my rifle and started struggling with me and I didn't know how I fire two gun shots which hit him on his knees. We then took the man and his vehicle. On our way to Chikere's community we kidnapped a woman driving a Toyota Four Runner and took her and the wounded man to the island. We also took the two vehicles to Aba and sold them for N200,000 each. When we called the man's family we asked for N50m but the man asked his wife to pay us N5m which was later increased to N6m. Four days later the man's brother brought the money to me at Mbise, Imo State while the husband of the woman in our camp brought N1m Few hours later Chikere called and told me that the man in our camp was dead. I then asked him to bury the man and the next day he called and told me that the woman had been taken out of the camp. I was in Aba, when the police came looking for me" he stated.
Another suspect, 28-year-old Teddy Ifeanyi, a native of Imo State, was born in Cameroon, and relocated to Nigeria in 2008. He narrated his involvement with the kidnap gang and how Prosper, the gang leader shot the NNPC man on his knee when he resisted being kidnapped and how he later died in their camp from the untreated wound. He also corroborated Prosper's account of the operations the kidnap gang carried out.
"Prosper called me that I should get the NNPC man's wife on the phone to speak with her husband and demand a ransom of N50million. He equally asked me to tell the woman that someone had paid us N30million to kill her husband. So, when I got the woman on the phone, the husband told her that he was shot on his knees and his wife told him that she heard the sound of the gunshot while he was being kidnapped and but she was too terrified to come out. He then asked her to find a way of persuading my boss, Prosper to reduce the ransom and get him out of the island which was too cold while his bullet wound was not being treated. Afterward, I sent the woman's number to Prosper who spoke with her and threatened to kill the husband if they didn't pay on time. When the man pleaded with me to beg my boss to reduce the ransom, I then asked him if he could afford N6m and he said yes. Then I called Chikere and Marcus who were with me in the camp and told them that our boss had been a very wicked person who would not reveal the amount he collected as ransom from our victims but would give us peanuts after collecting huge sums. I now suggested that they allow me talk to the NNPC's man wife, collect the N6million her husband said they could afford and then share it among ourselves. I made it clear to them that the NNPC man was badly injured, he wasn't receiving any treatment in our camp and he could die if we didn't get him out as quickly as possible. Then, Chikere who is an indigene of that community and also owned the camp, said he was scared of betraying Prosper. He said even if he ran away with his own share of the ransom, Prosper would kill his pregnant wife and his mother because he knew his house. We then resolved that the woman should give the money to Prosper which I related to her with a promise to equally persuade my boss to collect the money. I don't know what transpired between her and my boss but on the fourth day I learned from Steven who was with my boss outside the camp that the woman had paid N3million in dollars while the husband of the woman we picked at Onyigbo had also paid N1million making a total of N4million. When Prosper confirmed receiving the money, I told him we had had enough money and he should bring the man's vehicle so we could release him to his family to treat him but Prosper refused to show up while his phone lines were switched off.
On the fifth day, while I was still waiting for him, some hunters strayed into our camp and saw Chikere Marcus and I standing on guard and greeted us, but they didn't see the NNPC man and the woman because they were inside the camp watching monkeys jumping around. When the hunters left, I quickly placed a call to Prosper and I told him about what was happening. I asked him to come quickly that these hunters may expose us to the chiefs of that community and may get us arrested. But Chikere said he had spoken to the hunters and promised to pay them N200,000 if they didn't disclose what they saw inside the bush. He also said the hunters even showed them a better place they could keep their victims. Marcus brought his boat and we moved our captives to our new camp which they had already prepared. Few hours later, Steven came to the camp with an AK 47 rifle and told me that Prosper no longer trusted me and wanted him to be in the camp with the rifle. He also said it was Prosper who asked Chikere to look for a new camp.
On the sixth day after waiting in vain for Prosper to bring the vehicle to take the man out, he called that the vehicle had been stolen. When I looked at the man's bullet wound I discovered that maggots had started coming out of it and I was afraid that if we continued to keep the man he may die but Marcus said if he allowed the man to leave without Prosper's knowledge, Prosper would not give him his own share of the money. When the the NNPC man heard our conversation, he then asked me to call his wife and he asked her to give me the balance of N3millon so he could leave the place. When I spoke to the woman, she told me that she doubted if that would be possible because my boss, had reduced the ransom he demanded from N50million to N30million and that after collecting the first N3million he had been demanding a balance of N27millon. The wife however said that if I was sure that her husband would be released after collecting the money I should come out of the camp to collect it. I then left the camp with Marcus. After establishing contact with the man's brother on the ninth day, who told me they had N2.2m with them and were still trying to raise the balance of N800,000, I asked them not to bother about the balance but should follow my instruction on where they should drop the money. When I counted the money, I discovered it was $6,200 and we headed straight to the camp. It was when we got to the camp that Steven told us that the man had died. He said when the other abducted woman discovered that the NNPC mand had died she busrt into tears. The man was later buried in a shallow grave.
We then left the camp immediately with the woman and when we got to the tarred road I stopped a motorbike which took me and the woman to a point where we got a bus that took us to Onyingbo. When we got to the bus stop, I bought the woman a pair of slippers and I gave her N2,000 for transportation back to her house. Then she took my phone number and gave me her own, her home and school's address and asked me to call her that she would reward me with N400,000. Two weeks later, I was in my house sleeping when I heard a knock on the door and when I opened it, I saw some policemen who called me by my alias, "Ti-Money" and got me arrested. I didn't know why I was arrested until I got to the police station and Chima, Steven, and Samuel were brought before me and I was asked if I knew them. When I said yes, the policemen then asked me to confess and I told them all I knew about the gang".