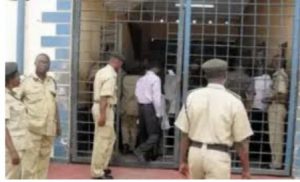 Cree
Torrential rain that fell on Monday morning in Koton-Karfi, Kogi Local Government council of Kogi State, according to reports, is responsible for the escape of about 228 prisoners from the medium federal prison after the collapse of some parts of the building while many houses were submerged by the flood.
The rain which started at about 2:00 a.m. on Monday, wreaked havoc, leading to the destruction of some parts of the prison building, which paved the way for the inmates to escape.
According to one of the residents, it was due to the heavy downpour that the cause the flood which affected many houses and the prison building.
Residents say, Osugu River was the major cause of the flood which destroyed so many houses including the prison which led to the escape of some inmates.
The prison was flooded as at time of report, and officials were not willing to talk on the matter.
Unofficial report from a source in the correctional centre said that about 228 of the inmates escaped but only 100 have been rearrested by the security agents saying the Deputy Controller General of Correct Service had visited the place saying government will put everything in place to re-arrest some inmates who are still at large.