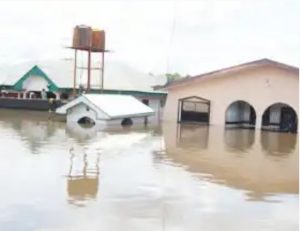 Downpour in Abeokuta, the Ogun State capital has left no fewer than 11 people dead while property and other valuables worth millions of naira were lost on Friday.
The rain, which started around 4.30pm, subsided about three hours later, leading to a gridlock in major parts of the town, forcing many residents to trek to their destinations.
Among those who lost their lives were a food vendor, Halirat Akintobi, and her two sons.
The deceased, according sources, had a container at Ilawo, near Kobiti  Central Mosque in the Abeokuta North Local Government Area,  where she had gone for the day's business with her children, when the flood hit the area.
They were said to have taken shelter inside the container when the flood caused the havoc.
Their corpses were recovered from the river channels and were said to have been buried according to Islamic rites on Saturday morning.
Sources said some residents were still searching for their family members by visiting the mortuaries in Abeokuta as of Saturday evening.
Apart from the trio who had since been buried, eight other corpses, who were victims of the devastating flood, were said to have been deposited at the mortuary of the General Hospital, Ijaiye, Abeokuta.
The Chairman, Nigeria Red Cross Society, Ogun State chapter, Mr. Joseph Obalanlege, described the situation as devastating.
He confirmed that no fewer than eight other persons died in the flood.
He said, "It is very devastating, so many lives have been lost. We are rushing down to Ijaye General Hospital because we have a report that about eight bodies have been deposited at the mortuary from different areas."
It was gathered that valuables worth millions of naira were also either swept away or damaged by the devastating flood.
No fewer than eight vehicles were also said to have been swept away, as Ogun River  and Sokori River overflow their banks, and emptied their contents into some parts of the city.
Areas mostly affected by the flood included Ijaiye, Kuto,  Lafenwa, Oke Lantoro, Amolaso, Kobiti and Ilawo, among others.
Narrating her ordeal, a beverage seller at Amolaso, Ms Bisola Somuyiwa, who wept throughout the interview, said she lost many of her items to the flood while her two shops were damaged.
She said, "I have been in this area for 10 years, selling alcoholic and non-alcoholic beverages. I have two shops. When the rain started, it was not so serious but gradually it became so heavy."
Some other residents in the area, who narrated their ordeals in tears, were seen salvaging valuables and property from their shops and residential apartments.
A two-storeyed building in the area was equally affected. No fewer than six cars, Plasma TV sets,  solar panels and other valuables in the building were destroyed by the flood.