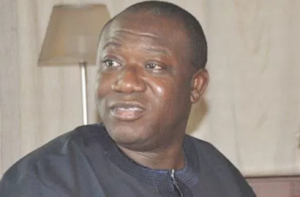 Dr. Kayode Fayemi, APC candidate for the forthcoming Ekiti state gubernatorial election, has accused Governor Ayodele Fayose of producing sensitive election materials at the Government House.
Fayemi in Ado Ekiti on Tuesday said the governor in conjunction with some named officials of the electoral body were plotting to compromise the July 14  election. The former minister of Mines and Steel development listed three officials of the Independent National Electoral Commission, INEC of collaborating with the governor in the alleged plot.
While calling on the Independent National Electoral Commission (INEC) to call its staff to order noted that documents such as PVCs, result sheet (Form EC 8A) and accreditation forms are already being produced.
His words, " We have it on good authority that   Governor Ayodele Fayose in cahoots with some corrupt top officials of INEC in the state are busy attempting to compromise the electoral process in favour of PDP. "We have it on good authority that an election expert, a former INEC official, has been living with the governor in the Government House since January this year. "After these illegal activities in the Government House, there was a secret meeting held with three top officials of INEC from the national headquarters in the Government House. "Curiously, these three top officials hold strategic positions in election management. One is from the Admin, one is from Stores and Distribution Dept while the other is ICT top official. "For the reasons best known to them, only the Government House was their exclusive port of call; APC was never in the picture. After this evil agenda, Fayose stormed the media to raise allegations the APC was in Ondo State Government House to manipulate the ballot to give APC an edge in the July 14  election. "You have spent a few years in Ekiti State and so you know how Fayose operates. When Fayose is up to something sinister, he will accuse an innocent man of committing that evil. "And so immediately he made the allegation, we knew he had concluded an evil agenda." "We therefore launched our investigation within the fraud ring in the Government House and the revelations were shocking. "After our investigation, it was discovered that some sensitive INEC documents have been illegally produced in the Government House with the help of some unscrupulous INEC officials.
The alleged officials are Egharevba John, Festus Aisien, Igidiogu Kelechi and Ishaku Abbo, a former INEC staff".
"Documents already produced include stamps, PVCs, Result sheets (Form EC 8A) and INEC accreditation forms. We are calling on INEC headquarters to note these atrocities being perpetrated by its corrupt officials to tarnish the image of the electoral body".