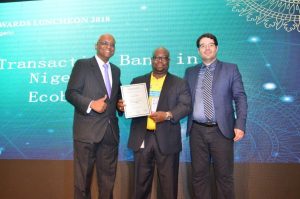 Ecobank Transnational Incorporated (ETI) and its two affiliate countries – Nigeria and Ghana- have emerged winners in three strategic categories of The Asian Banker – West Africa Awards 2018. The annual awards saw ETI winning the Best Financial Inclusion Initiative Application or Programme with its innovative Xpress Account, while Ecobank Nigeria carted home the Best Transaction Bank in Nigeria, West Africa award. Ecobank Ghana also won in the Best Transaction Bank in Ghana, West Africa category.
Speaking at the award ceremony in Lagos, the Chairman, The Asian Banker, Emmanuel Daniel said, "these awards are the most rigorous, prestigious and transparent awards programme for financial technology, retail banking and transaction banking in West Africa today. We recognize the deepening and increasing maturity and sophistication of the industry in this region."
He commended Ecobank for bagging three awards, saying specifically that the Best Transaction Award in Nigeria, West Africa won by Ecobank, is a pointer that the bank has re-emerged as a strong player in the Nigerian market owing to its digital restructuring and improved performance.
"Ecobank's aggressive digital push produced a first innovative mobile payments solution, the Masterpass QR with MasterCard to push financial inclusion in Nigeria through its new, smart, card-less, contactless and cashless payment solution. This bank also launched an integrated electronic banking platform that has on-boarded four million customers within a short space of time".
In his comment, Charles Kie, Managing Director, Ecobank Nigeria thanked the Asian Banker Award Team for painstakingly creating an opportunity to celebrate hard work by members of the banking community. He described the awards as a worthy recognition of  Ecobank's landmark initiatives targeted at financial inclusion on the African continent. He stated that the awards further affirm Ecobank's leading contributions to the use of technology innovations and digital platforms for expanding banking frontiers.
Represented by Korede Demola-Adeniyi, Group Head, Personal Banking, the Ecobank Managing Director stated that Ecobank Mobile App is a game changer for African banking as "we are using digital technology to combat many of the financial inclusion barriers faced by those on the continent.  Our app not only removes the barriers that have financially excluded so many Africans but offers next generation functionality to help them send money, make withdrawals or pay for goods and services"
"I use this opportunity to dedicate this awards to all hard working staff of the Ecobank Group, who have tirelessly worked to see the success of the bank. And also to all Africans who believe in us and have continued to encourage our efforts by adopting our products".
Other winners at the event included , ALAT by Wema Bank which won the Best Digital Bank in Africa; the Best Wealth Management Bank in Nigeria went to Standard Chartered Bank while the Best Mobile Payment Service and The Digital Wallet of the Year went to Guaranty Trust Bank, amongst others.