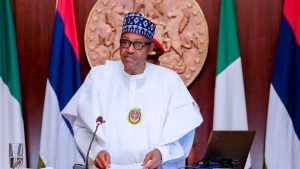 Nigeria's Minister of Defence, Bashir Magashi has been allegedly indicted in a $550,000 security fund diversion.
President Muhammadu Buhari came under heavy criticism yesterday for his failure to act in the alleged indictment of his Minister of Defence. Presidential spokesman, Garba Shehu deflected response on the allegation to the office of the Minister of Defence when the presidency's reaction was sought on the matter.
Against a groundswell of allegations of cherry-picking on whom to prosecute in his anti-corruption offensive, Buhari is now directly fingered for shielding Magashi, who is accused of stealing and shipping $550,000 from the nation's treasury to an offshore account. Magashi has been called out to explain his role in the slush amount he received from the infamous 'Abacha loot' estimated by Transparency International to be at least $5 billion, out of which $3 billion has been recovered.
Nigerians are incensed that Buhari still ignores the findings in the report. The president's indisposition to bringing his key appointees to account came to the fore as Shehu maintained that it was not within his purview to respond to everything. "Direct your question to the man (Minister of Defence)," he said.