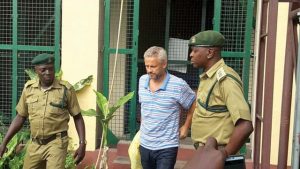 Danish national, Peter Nielsen, who was suspected of killing his wife, Zainab Ali- Nielsen and their three-and-a-half-year-old daughter, Petra, has been remanded at Ikoyi prison by a Yaba Chief Magistrates' Court sitting in Lagos yesterday.
Chief Magistrate Kikelomo Ayeye remanded Nielsen, 53, in Ikoyi Prison, following an application by the police. Nielsen was docked on a two-count charge of unlawful killing. The charge, marked B/87/2018, was read to the defendant in English.
It reads: "That you Peter Nielsen, male, on April 5, 2018 at Block 4, Flat 17, Bella Vista Tower, Banana Island, Ikoyi, Lagos, did unlawfully kill your wife, one Zainab Ali- Nielsen, aged 37 years. That you Peter Nielsen on April 5, 2018 at Block 4, Flat 17, Bella Vista Tower, Banana Island, Ikoyi, Lagos, did unlawfully kill your daughter, Petra Nielsen, aged three- and-a-half years."
According to prosecuting counsel, Mr. Effiong Asuquo, a Chief Superintendent of Police (CSP), the offences were contrary to Section 223 of the Criminal Laws of Lagos State, 2015 and punishable under same. Nielsen's plea was not taken. He was represented by Frank Udoka Amah.
Asuquo tendered a three-page application, containing 15 grounds for Nielsen's remand in prison. He said: "There is overwhelming forensic evidence linking the defendant to the assault and murder of his wife and daughter. Investigation has also shown that the defendant was habitually violent to his late wife, Zainab."
According to Asuquo, a fight broke out between the couple in their flat at about 3:00a.m. on that fateful day. Nielsen was allegedly seen fighting and hitting the deceased's head on a wall by her two relations, Mimi, 11, and Faith, 13 who lived with them. She died from injuries sustained from the assault.
The prosecutor alleged that Nielsen then poisoned Petra before dragging her body into the kitchen.
Asuquo said: "He took the lifeless little girl and put her under the mother's body and then put on gas stove burners in the kitchen so that it will be believed that the wife and daughter were suffocated to death by the cooking gas.
"The offences which the defendant has committed are capital offences and thus the defendant needs to be remanded in prison pending legal advice by the Director of Public Prosecutions (DPP) and proper arraignment and trial before the High Court. It is in the national interest that the suspect remain in prison pending legal advice and his arraignment and trial."
Chief Magistrate Ayeye upheld his prayer. She remanded Nielsen in prison and adjourned the case till May 8 for the DPP's advice.