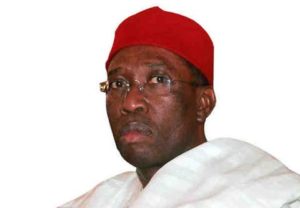 Governor Ifeanyi Okowa and his wife, Edith, have tested positive for coronavirus.
It was learnt that almost all the offices at the Government House had been shut, as workers were said to have abandoned their offices for safety, leaving only the security behind.
Sources said that the news that the father of the state and his family had tested positive for COVID-19, was an indication that the state was in danger.
"Almost all the offices have been shut down; workers are afraid as the key components of the government have tested positive.
"These are those who have been observing the COVID-19 protocol, yet they still contracted it, meaning all of us are not safe," the source said.
The Chief Press Secretary to the Governor, Mr Olise Ifeajika, said that Government House was not shut down.
He said, "SSG, Commissioner for information are in isolation centres; so, the only person, who speaks now is me and what I said today is the position of government.
"We have not shut down Government House. Any government official, who goes for test, is for them to know their status.
"Governor is not sick; that he tested positive does not make him sick. He is stable and responding to treatment. Even the SSG, in his confinement, he handled few things. It is not a death sentence."