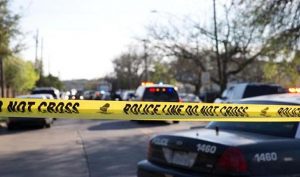 An explosion in the Texas state capital of Austin, has injured two young men in their twenties.
The explosion came just hours after police made a direct public appeal to the person or persons who carried out the previous bombings to come forward.
So far, they have claimed the lives of two people and injured four others.
The two killed earlier this month were African Americans, raising the possibility of a hate crime. The race of the two latest victims was not immediately disclosed.
But police believe all the bombings are connected, although the latest one appeared to be activated by a trip wire while the others were concealed in packages left on doorsteps.
Austin interim police chief Brian Manley told reporters the two youths injured in Sunday night's blast were either riding their bikes or pushing them when a suspicious package on the side of the road detonated.
It is "very possible" that it was "activated by someone either handling, kicking or coming in contact with a tripwire that activated the device," he said.
"That changes things," he said. "We now need to have an extra level of vigilance and pay attention to any suspicious device, whether it be a package, a bag, a backpack, anything that looks out of place."
Police, however, did not mention the race of the Sunday victims.
An exploding package on March 2 killed a 39 year-old man. On March 12, a 17-year-old boy was killed and a woman was injured by another package bomb. A Hispanic woman was seriously injured in a second blast the same day.