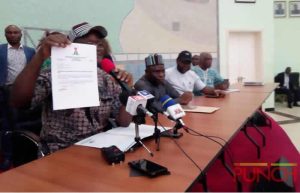 Samuel Ortom, Benue State Governor has officially announced on Wednesday his defection from the All Progessives Congress  to the Peoples Democratic Party.
This is coming a day after the APC lost 13 of its senators and 37 of its House of Representatives members to the PDP, thus giving the majority status to the former ruling party in the Senate.
Ortom made the declaration during the meeting with local government chairmen and their councillors at the new banquet hall of the Government House, Makurdi.
Thirteen local government chairmen and 276 councillors were in attendance.
Ortom, who said that despite the intervention of the national leadership of the APC, the "state chapter of the party has continued to launch attack on me."
"This morning, I had wanted to go to Abuja to attend the meeting but some youths in the state refused, they asked me to go back.
"But let me formally inform this gathering that I have forwarded my resignation letter from the APC to the chairman of my council ward and he has promised to join me in the new party," Ortom declared.
Immediately he announced his resignation from the APC, the governor displayed his resignation letter to the people.
"As I talk to you, 10 out of 17 state lawmakers of the APC are ready to  follow me to the new party. May I formally announce to you that I have formally moved to the Peoples Democratic Party, PDP," Ortom declared.