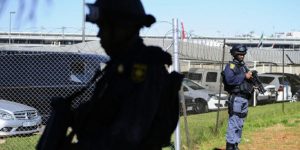 ThankGod Okoro, a 30-year-old Nigerian from Ogbaku in the Awgu Local Government Area of Enugu State, was reportedly killed in South Africa.
The killing of Mr. ThankGod is the latest in what has been described as recurring pre-meditated murders of young Nigerians in South Africa.
Records show that no fewer than 117 Nigerians have been killed in South Africa since February, 2016.
Unofficial estimates put the number of Nigerians residing in South Africa at about 800,000 majority of whom are young people.
The Publicity Secretary of the Nigeria Union in South Africa, Mr Habib Miller, who is based in Pretoria, confirmed the killing of Okoro in a telephone interview with the News Agency of Nigeria (NAN) in Port Harcourt on Friday.
He said that Okoro was allegedly shot in the head by a South African police officer.
"The union is not happy with the latest murder of ThankGod Okoro on April 9 by a member of the South African Police Flying Squad at Hamburg, Florida West Rand in Johannesburg.
"The officer, who shot Okoro claimed that the young man attempted to stab him during a stop-and-search operation.
Miller said that the Acting President of the Nigeria Union, Mr Joshua Ogade, and the head of the union's legal team, Mr Omoreige Ogboro, had visited the area Okoro was killed to gather information on the incident.
"Our team has gone to the Florida Police Station to ensure that due process is followed in an attempt to seek justice on the killing.
"The Independent Police Investigative Directorate has been notified of the killing of Mr Okoro,"
Miller said that the police in Florida State had commenced investigation to unravel the circumstances that led to the killing of the Nigerian.
The spokesman said, however, that the union learnt from investigators that the trigger-happy police officer had boasted few weeks before the incident that he would kill Okoro.
He pleaded with the South African authorities to wade into the matter to discourage wanton killing of Nigerians by policemen in the former apartheid enclave.
"Anyone suspected or found on the wrong side of the law should be arrested and tried at the appropriate court rather than killing Nigerians extra-judiciously," he said.