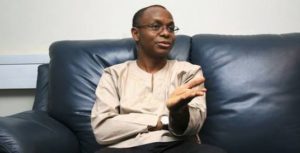 Kaduna State Governor, Nasir el-Rufai has ordered a 24-hour curfew in Zangon Kataf Local Government Area, in Southern Kaduna, after suspected armed herdsmen opened fire in Samaru Kataf, a busy market, Tuesday evening, killing three and injuring five.
Samaru Kataf is in Samaru District of Atyap Chiefdom in Zangon Kataf council.
The traditional ruler of Zangon pKataf, Gwatyapof Atyap Chiefdom, Mr. Dominic Yahaya, who visited the injured in hospital, described the situation as "sad and unfortunate" and appealed for calm.
Christopher Yakubu, one of the injured, who spoke from his Gwatyap hospital yesterday, said: "I was going to get a message from my friend, who was just a few metres away. I felt something hit me in the leg, and then I heard gunfire all over the place.
"I fell but cannot say how many people were shooting; but it continued for some minutes. People ran for cover. I was left in the pool of my blood. By the time I was assisted out of the market, three of us were dead. I was lucky; I was shot in the leg."
The victims were said to be in their early twenties and all males from different Atyap villages. The attackers left on their bike, firing as they zoomed off on the road to Mayayit village.
They were not caught despite the heavy presence of police and soldiers that had been stationed in Samaru Kataf before Christmas.
Also injured were Gabriel Ayok, Bukam Waje, Aminu Basaki abd Samaila Kude.
Zangon Kataf council was virtually shut, yesterday, as police vans blocked strategic entry and exit points on the Federal roads that run through the council to other parts of the state and the country.
In Samaru Kataf, where the violence occurred, all residents were seen sitting in front of their homes with heavy barricades placed at intervals to stop vehicular movements.
"By 1p.m. yesterday, police moved into Zonkwa, the commercial hub of Zangon Kataf Local Government Area and ordered everyone outside to return home or face their wrath.
Several vehicles were trapped in the local government in response to a 24-hour curfew imposed by Governor Nasir el-Rufai and relayed to the public through his spokesman, Samuel Aruwan.
Aruwan said that the 24-hour curfew was with immediate effect, "from tonight, Tuesday, 17 January until further notice."
He explained that "the restoration of the curfew follows renewed security threats in Samaru-Kataf where the market was attacked by hoodlums.