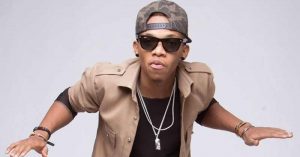 Mr. Lawal Tijani, the producer of Tekno's latest music video, has explained the incident that led to the conveying of semi-nude ladies in a display van around the Lekki-Ikoyi link Bridge on Friday night.
He apologised to Nigerians for the indecent act showing strippers dancing seductively with singer Tekno in a display van in traffic around the Lekki-Ikoyi link bridge.
The video clip, which had gone viral on social media, was said to be part of a scene from Tekno's unreleased video, titled Agege, featuring musician, Zlatan Ibile.
The Lagos State Signage and Advertisement Agency had also suspended the licence of the firm that reportedly owns the van for promoting indecent acts.
However, Tijani said what happened was that the van which the production company was using developed a fault, hence the decision to convey everyone in a display truck.
The producer said, "My people, I want to clear the air about a video that has been circulating on various platforms showing some ladies dancing in a truck around the Lekki area.
"Contrary to the speculations that have been circulating, we were shooting some scenes in an indoor location in a transparent truck in Lekki 1 for one of Tekno's new songs.
"This had nothing to do with advertisement of any sort.
"As part of the concept of the music video, we had a night scene in a truck and the truck was to move to the next location in Victoria Island, Lagos, at about 12 midnight; but our production van was faulty, so we had to convey our artist and models in the transparent truck.
"We apologise for whatever inconveniences we may have caused. We tried to take all caution in ensuring that the shoot was done professionally and our movement was made at midnight."
Tijani said the advertising firm, Pro-Vision Media Systems Limited, had nothing to do with the production of the video.
The firm had also said on Saturday that although the truck was registered in its name, the vehicle had been sold to a third party since last year.
"Once again, I apologise for any upset caused. We are artistically minded people and are always pushing boundaries and trying to create new things all the time and that is all this was," Tijani said.