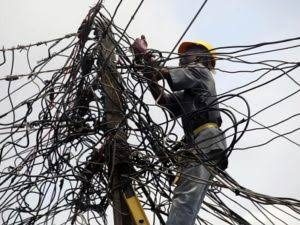 Francis Idoko, an official of the Eko Electricity Distribution Company (DISCO), was on  Friday beaten by residents of a building on Fish Pond Street, Muwo Ojo, Lagos, for disconnecting their line.
The residents, who insisted that the official should reconnect them, after raining  blows on him, also let loose a dog, which attacked Idoko.
The DISCO official alleged that the building's prepaid metre was illegally connected.
"The house has a prepaid metre but the residents did not go through the right channel,'' Idoko said.
"We are on routine assignment and in the process, we came across the building; worked there and continue with other buildings on the street.
"It was while in the adjourning street, that one of the residents approached me and requested to know why the house was disconnected.
"I followed him to the house and he locked the gate against me,'' he said.
In her response, Mrs Afoke Oghenetaga, whose dog attacked the victim, said that the residents contributed in buying the metres.
"Many of us, few days ago recharged with as much as N6,000 to enable us enjoy the Christmas and the New Year holidays; only for us to be cut off by this man,'' Oghenetaga said.
According to her, the dog was not on chain and only acted in favour of the residents it was familiar with.
She said the dog attacked the only stranger among them, adding that that person happened to be Francis.
On arrival at the scene, the DISCO Supervisor, in charge of the area, Mr Kingsely Amadi, who was contacted on phone, said that all those involved in the mayhem would be brought to book.
"DISCO has been advising customers to formalise their metres to avoid embarrassment that can result to such chaotic situation.
"We are bent in serving our customers to the best of our ability but they too should play their roles to make things work,'' he said.