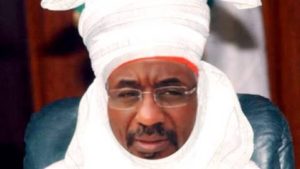 The Federal Government has said that Emir of Kanu, Lamido Sanusi was not in possession of any fact about the Central Consolidated Account domiciled in Central Bank of Nigeria, CBN and so, could not have spoken with precision on the over drawing made by government from the account.
It also said that $30 billion loan which the government was seeking senate approval for was for the building of massive social infrastructure.
It will be recalled Sanusi had at a function in Abuja on Friday asked the federal government to drop the loan idea, saying it would plunge Nigeria into unprecedented indebtedness.
Sanusi in his submission however advised President Muhammadu Buhari to invest more in economy and the private sector.
But responding through the Senior Special Assistant to the President on Media and Publicity, Mallam Garba Shehu, the presidency admitted that the federal government had made withdrawals from the account but not the volume of N4.5 trillion as Sanusi alleged.
"With every respect to the Emir, you know he is my ruler, because I come from Kano.
"He doesn't have his facts as far as those issues are concerned. The issue in CBN, that government has overdrawn its Central Consolidated Account is true, but the overdrawing is within limits.
"The overdraw does not exceed 1.5 trillion. It is incorrect to say, as he did that the account was overdrawn by 4.5 trillion.
"But even assuming that he was correct, this is a government that has money in excess the amount he mentioned in the Treasury Single Account, TSA. It is just like you, a bank customer operating two accounts, one in the red and the other, well funded to the point that it can at any time wipe the indebtedness on the other. Would any bank manager lose their sleep over this?
"This, I am told is what the IMF found at the CBN and they said it is perfectly normal.
"As for his opposition to the USD 30 billion loan, I am aware that the Minister of Finance is responding to that.
"As a private citizen, I want to read his statement again. I thought that the borrowing is for projects that include the railway and electricity development in the country", Shehu said.